The writer acknowledges the assistance of Leslie and Rita Bagust in the preparation of the following material.
Archibald Banks, the son of Archibald (a farmer) and Janet (née Hunter) Banks, was born, according to his death certificate, in 'Dudston, Edinton, Scotland', about 1808. He married Mary Finnie at Inveresk, Midlothian, Scotland, on 22 June 1827 (IGI).
When the census was taken in Scotland on the evening of 6 June 1841, the Banks household in Longniddry, East Lothian, was made up of: Archibald (30, more likely 33, an agricultural labourer), Mary (30), Janet (13, bap. 1 June 1828), Isabella (11), Mary (9), Thomas (3) and Archibald (9 months). Another son, James Horsburgh Banks, was added to the family about three years later.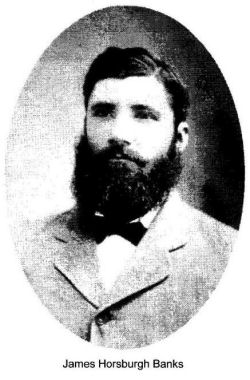 Archibald was a widower when he married Helen Tait, the daughter of William (a weaver) and Ellen (née Grieve) Tait, in Gladsmuir, East Lothian, on 17 December 1847. Helen hailed from Peebleshire, the most northerly of the border counties in Scotland. After the death of their parents and their firstborn child (Helen, bap. 18 November 1848), they migrated to Australia on the 1133-ton John Davies (Captain Richard Hughes). With about 400 government immigrants on board, the ship left Liverpool on or about 5 January 1855 and arrived in Moreton Bay on 3 or 4 May 1855. There were 8 births and 7 deaths during the voyage.
After the arrival of the ship one passenger, William Geary, was charged with riotous and disorderly conduct en route. He appeared in court before James Leith Hay and Henry Buckley. On the evidence of the surgeon-superintendent John James Evans and a number of the passengers, he was found guilty, fined £1 with £4 8s 2d costs and jailed for a week.
Accompanying Archibald and Helen were five surviving children by his first marriage and two by his second—all of them born or baptised in the civil parish of Gladsmuir. Shipping records list them as follows: Jessie (26), Mary (22), Thomas (17), Archibald Jr (13), James Horsburgh (10), William (5), and Robert (2). All members of the family are listed as Presbyterians; and the occupations of the three older children are given as follows: Jessie and Mary (domestic servants) and Thomas (farm labourer).
In view of the lack of any later relevant reference to a Jessie Banks in Australian records, it is this researcher's belief that she may have been the same person as the daughter who was born to Archibald Banks and Mary Finnie and who was christened Janet (after her paternal grandmother) at Newton, Midlothian, on 1 June 1828. This suggestion is consistent with the ages given for Janet and Jessie above.
Archibald Sr's death certificate also mentions an older daughter, Isabella (b. about 1831), who may have married before her father's departure for Australia and may have remained in Scotland.
The tragic death of William Banks, one of the above children, was reported in the Brisbane Courier in January 1876. He had been working as a farm labourer on Doyle's Kildare Farm at Veresdale about 10 km north of Beaudesert which is about 70 km west of Brisbane on the Mount Lindesay Highway. The following is the newspaper account of the tragedy:
VERESDALE
This week we have to record the death of a young man, of the name of William Banks. While returning from his Christmas visit to Brisbane to his place upon the Logan, it appears that his horse ran him against a tree. Death must have been instantaneous, as his neck was broken, and other parts of his body were much bruised. He was found by the roadside by a passer-by [Thomas Maguire, a farmer], about seven in the evening [of 2 January]. Mr. Durall, of Bromelton [about 7 km west of Beaudesert], attended at 5 a.m. next day, when the body was removed to his brother's [James's?] place. Deceased was much respected in the district, which could be seen by the number attending the funeral, notwithstanding the short time allowed. Over 100 people followed him to his resting place at Woodhill, at 4 p.m. same day.
An inquest was held in Beenleigh on 3 January 1876 at which submissions were taken from Thomas Maguire, William Marshall (a farm labourer from Brisbane) and John Doyle (son of the owner of the Kildare Farm).
Archibald Banks, William's father, also had a serious accident. He had the misfortune to fall from a cart and fracture his spine while working on his own farm. He died from the resultant paralysis at his residence, 'Sunnyside', Cooper's Plains, aged 76, on New Year's Day 1885 and was buried in the Cooper's Plains Cemetery on the following day. The Reverend James Samuel Hassall, the first native-born clergyman of the Church of England in Australia, officiated at the graveside. Thomas Freney, a very early settler in 'Cowper's Plains', and William Malcolm Orr Murray were the official witnesses.
Given the fact that the names 'Tait' and 'Banks' appear among the given names of William Malcolm Orr Murray's children, there would appear to be some connection between the two families. There are two Murray children buried in God's Acre¾Robert Murray and Rose Hannah Murray. For more details about William Malcolm Orr Murray, see the entry under their names.
Six of Archibald's children, three sons and three daughters, predeceased him. Those who were alive at the time of his death were: Isabella (aged 54), Thomas (47; d. 15 September 1908), Archibald (44; d. 2 September 1917), James Horsburgh (41; d. 10 October 1904) and Jane Wilson (30) who was born on 11 October 1855 at Logan Bridge about five months after the family's arrival in Australia. She died at Mt Crosby on Brisbane's western outskirts on 6 May 1913.
Helen Banks, survived by her daughter Jane Wilson Williams, passed away at the age of 79 on 22 July 1899 at the Dunwich Benevolent Asylum (Stradbroke Island) to which she had been admitted on 29 January 1896. Her remains were interred in the cemetery there on the following day in the presence of witnesses Phil P Agnes and W Osborne.