On 30 October 1848, in a union that was registered in Stratford-upon-Avon, Elijah Embra, the son of Thomas and Elizabeth Nixon (née Busby) Edinborough, married Alice Clifton, the daughter of Richard and Elizabeth Clifton. It was one of their children, Elizabeth Embra (bap. Hook Norton, Oxfordshire, 2 July 1854), who married Edward Barnacle in the September quarter of 1875.
Edward and Elizabeth became the parents of three sons—Albert Edward (b. March quarter 1878), Walter John (b. September quarter 1884) and a third boy who died young. Initially, like other members of his family, Edward worked as a
basket maker. However, by the time of the 1891 English census he had become the proprietor of the Rose Inn at 14 Ely Street, Stratford-upon-Avon.
The family's decision to emigrate to Australia was taken in stages. Sharing a second class cabin, Edward and Walter John set sail on 26 November 1898 from London on the 6298-ton Orient Line vessel Orizaba (Captain Arthur Wellesley Clarke RN); and, having called at several ports, the ship reached Sydney on 7 January 1899. The grateful saloon passengers unanimously signed an illuminated address and congratulated Captain Clarke on his appointment as one of the Elder Brethren of Trinity House.
A few days later the Barnacles boarded the 2114-ton Aramac (Captain Joseph E Butcher) which was en route from Melbourne to Cooktown. The ship left Sydney at 6.30 p.m. on 10 January and arrived in Brisbane on 12 January.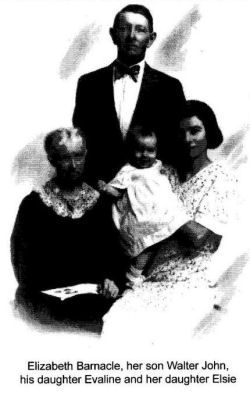 Albert Edward Barnacle, Edward and Elizabeth's older son, married Alice Jones, the daughter of Clement (a police constable) and Jane Elizabeth (née Bond) Jones, in London in the September quarter of 1906. Before his marriage he had been working as a butcher's roundsman and boarding with William and Jane Smith at 12 Montpelier Place, Westminster, London. Albert and Alice's first child Edward Clement, named after his two grandfathers, was born in the March quarter of 1907. Albert Edward (aged 30), Alice (29) and Edward Clement (1) travelled to Australia via the Suez Canal as nominated passengers on the 5857-ton Oruba (Captain SW Plunkett) which departed from London on 3 July 1908 and docked at Pinkenba (Brisbane) on 13 August 1908. The remaining 98 immigrants who had not disembarked at southern ports were brought up the River by the steamer Boko and, under the auspices of the Citizens' Welcome League, were the guests of the Royal National Association at the Brisbane Exhibition. They were served tea in the Women's Christian Temperance Union tent.
The family expanded with the arrival of Alice Elizabeth (known as Bessie, b. 2 September 1910; m. Edward James Kelk 20 December 1935), Ethel Dorothea (b. 23 January 1916; m. William Henry Carl Hewton 10 April 1939) and William John (b. 3 April 1917).
Alice Barnacle, who was living in Prince Street, Annerley, at the time of her death, passed away on 26 August 1961. Her funeral moved from St Philip's Church of England, Cornwall Street, Thompson Estate, on 28 August to the Mount Thompson Crematorium. Albert (known as Uncle Joe by family members), died on ?
After settling on the south side of Brisbane, Edward Barnacle, the father of Albert Edward and Walter John, became the licensee of the Crown Hotel, Rocklea, in the years 1899-1901. His wife Elizabeth would have been no stranger to the hotel environment as her father was for many years a licensed victualler and, at the time of the 1871 census (2 April) in England, was the proprietor of the Shakespeare Tavern in the hamlet of Shottery (Anne Hathaway's birthplace) about 1.6 km from Stratford-upon-Avon. Elizabeth may well have recalled the visit there of the famous American naturalist John Burroughs who, in a volume of reminiscences published in 1875, remarked:
Returning [from Anne Hathaway's house] I stepped into the Shakespeare Tavern, a little, homely wayside place on a street, or more like a path, apart from the main road, and the good dame brought me some 'home brewed', which I drank sitting at a rude table on a rude bench in a small, low room, with a stone floor and an immense chimney. The coals burned cheerily, and the crane and hooks in the fireplace called up visions of my earliest childhood. Apparently the house and the surroundings, and the atmosphere of the place and the ways of the people, were what they were three hundred years ago. It was all sweet and good, and I enjoyed it hugely, and was much refreshed.
Edward and Elizabeth returned to England about 1902 and re-established themselves in the hotel business. At the time of his sudden death from a heart ailment on 7 August 1912 at the age of 62, Edward was the licensee of the Cock Inn, 33 Jiggins Lane, Bartley Green, Birmingham.
Desirous of rejoining her children, Elizabeth came back to Australia and died on 3 August 1937 at the age of 83. She was laid to rest in the South Brisbane Cemetery (U 242) on the next day after a service at St Phillip's Church of England, Cornwall Street, Annerley.]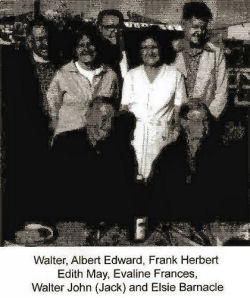 Walter John (Jack) Barnacle remained in Brisbane after his parents' departure. For a time Jack worked as a canecutter and timber-getter; but after his wedding to Edith Clara Hocking he bought 'The Hermitage', Judge Charles William Blakeney's old home in Ipswich Road, Rocklea, and lived there until Edith's death in 1928.
Edith Clara Hocking, the daughter of Frank (a contractor) and Emily Louisa (née Francis) Hocking—both of whom are buried in God's Acre
¾
was born in the Rocklea district on 22 July 1883. As her sons and daughters and most of her grandchildren would later do, she attended the Rocklea State School. She married Walter John
(Jack) Barnacle on 30 June 1904 and they became the parents of five children¾Albert Edward (b. 14 October 1904, known as Bert; m. Edith Muriel Ashmore 12 December 1935; d. 6 October 1997), Walter (b. 10 October 1906; m. Lillian May Ferguson 14 November 1936; d. 27 November 1994), Loeis Evaline Frances (b. 29 December 1910, known as Evaline; m. Douglas George Moore 11 February 1933), Frank Herbert (b. 6 December 1916; m. Emma Jane Forbes; d. 12 March 1997), and Edith May (known as May, b. 15 May 1920; m. Huia Didham McTaggett 8 March 1941).
Edith Clara died on 14 June 1928 and was buried in the Cooper's Plains Cemetery on the following afternoon. The funeral service was conducted by the Reverend John Bongers of the Congregational Church in the presence of E Murray and TF Barrie (witnesses).
Jack Barnacle remarried on 28 April 1930, this time to Elsie Hewitt. They visited England in 1939 and, according to one family member, arrived in Perth on their return journey on 3 September—the day on which Britain, France, Australia and New Zealand declared war on Germany. Jack died on 10 September 1975 and was cremated at the Mount Thompson Crematorium two days later. Elsie passed away peacefully in the Canossa Hospital on 30 December 1975 and was also cremated at Mount Thompson.