Mary Louisa Barnes
, the daughter of James and Nanny (née Dennis) Barnes and the eldest of their very large family, was born on 8 May 1865 and died from 'water on the brain' on 22 January 1866. She was buried on the following day in 'the Burial Ground, Cooper's Plains'. No undertaker or minister was present at the interment which was witnessed by John Dennis and Esther Ann Dennis (probably siblings of her mother, although
the John Dennis referred to could be her maternal grandfather).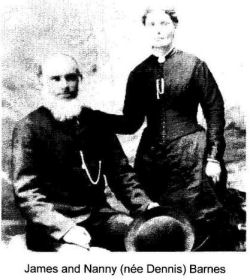 The following details of Mary Louisa's parents and grandparents have been taken, in part, from an internet website and would, therefore, require confirmation from original sources. James Barnes, the son of James and Prudence (née Matthews) Barnes, was born in St Leven, Cornwall, on 4 July 1840 and christened in nearby Sennen on 16 August 1840. He married Nanny Dennis in Penzance, Cornwall, on 3 October 1863, shortly before they left for Australia with the Dennis family on the Flying Cloud.
James and Nanny's children were as follows: Mary Louisa (b. 8 May 1865), William James (b. 5 November 1866; d. 31 January 1943), Mary Louisa Prudence (b. 22 May 1868; d. 26 December 1970), John Thomas (b. 2 October 1869; d. 29 March 1952), Benjamin (b. 24 February 1871; d. 28 July 1961), Isabelle Selina (b. 20 August 1872; d. 1939), Esther Ann (b. 23 September 1873; d. 9 November 1956), Annie1 (b. 20 February 1875; d. 4 April 1875), Annie2 (b. 16 March 1876; d. 12 July 1954), Ellen (b. 10 July 1877; d. 22 January 1919), Lily Jane (b. 21 March 1879; d. 24 October 1970), George Frederick (b. 10 December 1880; d. 9 February 1973), Clara Beatrice (b. 18 June 1882; d. 1 April 1967) and Minnie May (b. 11 October 1883; d. 14 May 1937).
Of special interest to us among these children is Mary Louisa Prudence Barnes who married Silas John Everdell on 1 September 1887. He was the brother of James Mogg Everdell who was buried in God's Acre on 25 April 1869. Mary Louisa Prudence died at Woodhill near Beaudesert after celebrating her 100th birthday.]
James Barnes died in Flagstone, Queensland, on 20 July 1908, leaving a widow and a grown-up family of four sons and eight daughters. He was laid to rest in the Mundoolun Cemetery on the following day. The following obituary appeared in the Beaudesert Despatch:
We much regret to record the death of another of our sturdy old pioneers in the person of Mr. Jas. Barnes, who passed away at his residence, "Tremayne," Flagstone Creek, on Monday last. The immediate cause of death was heart failure, following an attack of influenza and asthma. Mr. Barnes was a fine type of the good old pioneers who have done so much to open up this State and pave the way for those coming after them. Strong, vigorous, alert and active, his 68 years of strenuous life had made no visible impression on his hardy frame, and those who met him but a week or two ago would readily concede that he was yet good enough for many years of active
usefulness. But, apparently, it was not to be; and, after a brief illness, death claimed him and he entered into eternal rest. The deceased was born at Land's End, Cornwall, on July 4th, 1840, and was the second son of the late Jas. Barnes. Just before sailing to Australia he was married to the second daughter of the late John Dennis, (who died at Mundoolun), Sand Creed [=Sancreed], Cornwall. He came out in the sailing ship, "Flying Cloud," and arrived in Brisbane in 1864. The first few years were spent at Oxley Creek, Cooper's and Eight-mile Plains, and finally settled down in a 640-acre block at Mundoolun 32 years ago. He went in for grazing at first but in later years dairying on a large scale was carried on. Mr. Barnes leaves a widow and a grown-up family of four sons and eight daughters to mourn his loss.
In the early days Mr. Barnes was for some time engaged as road ganger and overseer, under the Works Department, prior to the enactment of the Divisional Boards Act, and he also acted in a similar capacity under the Tabragalba Divisional Board. He was one of the first members of the Tambourine Board, and occupied a seat as representative for five or six years. Up to last year he was an active member of the committee of the Logan and Albert Agricultural and Pastoral Society, when failing health caused him to retire.
The funeral took place in the Mundoolun cemetery on Tuesday last, and was attended by residents from all parts of the district. The cortege left the residence of the deceased at 11 a.m. and a brief service was conducted in the church, the hymn "Jesus, Lover of my Soul" being sung. The Reverend H. E. Hone conducted the ceremony at the graveside, reading the beautiful and impressive burial service from the Church of England Prayer Book, after which the hymn "On the Resurrection Morn" was sung; and so passes from our midst one who has faithfully done his duty, leaving behind him a worthy family to still further honour the name of Barnes in the future history of the district. To the sorrowing widow and family we extend our heartfelt sympathy in the bereavement they have sustained.
Nanny Barnes (née Dennis) was born in St Just, Cornwall, on 17 June 1843 and died at 'Tremayne', Flagstone, near Beaudesert, Queensland, on 17 September 1924. Two days later her remains were interred in the Mundoolun Cemetery. The following obituary appeared in the Beaudesert Times:
It is with sincere regret that we have to announce the death of Mrs. N. Barnes, which took place at her residence, "Tremayne" Flagstone, on Wednesday evening 17th instant. The deceased
lady had reached the age of 81 years, and had been living in the Logan district for 60 years, and was universally respected. She was the second daughter of the late John Dennis, of Sancreed, Cornwall, England, and came with her husband, the late James Barnes, in the ship Flying Cloud in the year 1864. She was predeceased by her husband and three daughters, and leaves a grown up family of four sons and seven daughters to mourn her loss. She was laid to rest beside her husband in the Mundoolun cemetery on Friday morning at 11 o'clock. The Reverend J. Hardingham officiated at the graveside ….