Eliza Grenier, the third daughter of Thomas and Mary (née Pannell) Grenier was born in Brighton, Sussex, on 9 August 1836. In keeping with family tradition, she was christened there in St Nicholas's Church of England on 11 September 1836. Together with her parents and her surviving sisters, Mary Ann (b. 10 September 1834) and Sarah (b. 2 April 1838), she left St Katherine's Dock, London, as a steerage passenger on the 658-ton barque Perfect (Captain William Snell) on 1 October 1838 bound for a new life in Australia. The ship docked in Sydney on 31 January 1839.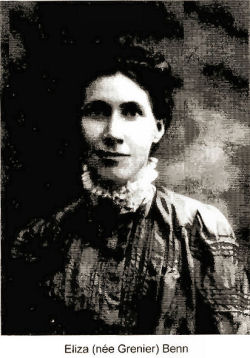 Fuller details of Eliza's siblings and of her childhood in Sydney, Brighton (near Melbourne) and Kororareka on the Bay of Islands in New Zealand may be found in this researcher's book, Thomas and Mary Grenier: Brisbane Pioneers (Easter 2002) and in a supplement to it (June 2004). See also the entries on her parents in this volume. It suffices to say here that, after about a year in Australia and several years in New Zealand, whence the family fled during the Maori uprising in 1845, the Greniers settled in South Brisbane and later at Cooper's Plains.
On 23 August 1854 Eliza married Henry Watson of North Brisbane in a ceremony presided over by a Presbyterian clergyman, the Reverend Alexander Waters Sinclair. The witnesses to this union were the bride's father and Dr Frederick James Barton, formerly a respected young surgeon at the Brisbane Hospital and, at the time of the nuptials, the proprietor of a drug business in Queen Street where, among other services, he provided 'bleeding, cupping, [and] tooth drawing'.
Eliza and Henry—who is listed in contemporary records as a storekeeper in Grey Street (1856), a mariner (1859), a merchant (1864), more specifically as a wine and spirit merchant (1865), and a commission agent—were the parents of three sons and one daughter: Henry George Thomas (b. 21 November 1856; d. 2 December 1889), Thomas William (b. 4 March 1859; d. 19 February 1860), George Alexander (b. 20 April 1862; d. 24 May 1862), and Mary Ellen (b. 2 September 1863; d. 3 May 1935).
Henry and Eliza resided for most of their married life at South Brisbane. However, at the time of Henry's death, only ten years after their wedding, he and his wife and their two surviving children were living in William Street, North Brisbane, just over the river in the vicinity of the Commissariat Store. Stricken with an 'effusion on the brain', Henry was treated by Dr Francis Xavier Heeney and died at home on 17 December 1864 aged 39. The family cannot have
been resident there for very long; for, in the newspaper notice of the birth of the youngest child in September 1863, their address is given as Elizabeth Street.
After a service in St John's Church conducted by the Reverend John Tomlinson, Henry's remains were interred in the Paddington Cemetery (plot 255), the burial place of two of his sons and of his wife's brother Thomas (d. 25 August 1857). The undertaker was George Barney Petrie and the official witnesses of the burial were Thomas Grenier and Robert Davidson.
Eliza, widowed at the age of 28, was left to raise young two children. Fortunately for her and for them, she met an eligible Irish-born bachelor and found the prospect of rebuilding her life with him much to her liking. On 19 October 1865, ten months after Henry's untimely demise, Eliza remarried. Her new husband was William Ewer Benn, the son of James Webb Benn and Christiana Mackay (or McCaig) who travelled to Australia with their young family on the 467-ton Livingston (Captain Rickerby) in 1841.
From 1866 to 1869 William, a respected publican, was the licensee of the Plough Inn in Stanley Street, South Brisbane. Presumably this became Eliza's new home until her husband took over the Royal Hotel in Queen Street, opposite the General Post Office (1869-70), and later the Coach and Horses Hotel at Oxley on the Brisbane to Ipswich road (1871-75).
William and Eliza were blessed with five children: Eliza Christiana Benn (b. 6 June 1866), William Webb Benn (b. 7 March 1868), Minnie Kate Jessie Benn (b. 12 September 1869), John Ewer Benn (b. 23 June 1871), and Jessie Jobina Benn (b. 21 July 1873; d. 23 July 1879).
Despite the ministrations of Dr Edward Robert Webb MRCS, an assistant surgeon at the Woogaroo Asylum, and the solicitous bedside assistance of several of her closest relatives, Eliza died at Oxley on 17 June 1875, about three days after she was stricken with apoplexy; and a pall of sadness descended upon the family. Only 38 at the time, she left seven children of whom Henry, the eldest, was almost 19 and Jessie, the youngest, a month short of her 2nd birthday. Inevitably, at the tender age of 12, the grieving Mary Ellen must have had additional responsibilities thrust upon her in caring for the younger children.

Eliza's remains were interred in the 'Cooper's Plains private Ground' on Saturday, 19 June 1875. As her death certificate indicates, the undertaker was Walter Barrett (of Queen Street), the two official witnesses of the burial were her brother Henry John Grenier and Charles Chatfield, and the service was conducted by a lay reader, Arthur Morley Francis, who farmed a property at Oxley Creek. William Benn was devastated; and it comes as no surprise to learn that he relinquished his licence of the Coach and Horses Hotel at Oxley in that year.
An inquest into Eliza's sudden death was held in the Goodna Court House on 22 June 1875. This was conducted by Henry Lucock, the local registrar and a friend of the family, in response to a report from John Walker of the Goodna Police Station. Depositions were given by the following: John Walker; George Alexander Grenier (Eliza's brother) who had sent for Dr Edward Robert Webb of Woogaroo; Dr Webb himself who, having prescribed medicine and later having conducted a post-mortem on the deceased, concluded that death was due to apoplexy of the (right) lung; Mary Grenier (Eliza's mother); and Sarah Mary Agnes Grenier (the wife of George Alexander Grenier).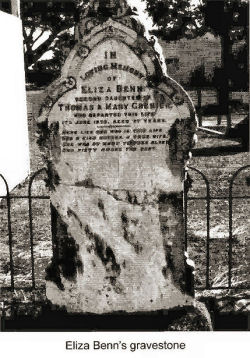 Unable to rear the children without assistance, William availed of the generous offer of Eliza's brother and sister-in-law, George Alexander and Sarah Mary Agnes Grenier, to help out. At the time of Eliza's death, they had five surviving children of their own. It is not known whether they took over the upbringing of the two Watson children; but is surely significant that Mary Ellen Watson later chose to be married at their residence. George and Sarah were definitely involved in the care of the two boys, Willy and Jack Benn. Their sisters lived for a time with their uncle and aunt, Joseph and Sarah (née Grenier) Wonderley, in Toowoomba. This would explain how the youngest, Jessie Jobina Benn, came to be buried in the Wonderley plot in the Toowoomba Cemetery (grave No. 2088) after her death on 23 July 1879, just two days after her 6th birthday.
Turning his back on the hotel business, William Ewer Benn moved to Kangaroo Point where, as an item in Thomas Grenier's last will and testament (dated 17 June 1877) indicates, he became a boatbuilder. On 13 November 1882 he and Annie Bruce, a widow, were married by the Reverend Colin McCulloch according to the rites of the Presbyterian Church at 'The Manse', Wickham Terrace, Brisbane. The witnesses were Edward Reynolds (the husband since 20 December 1876 of the groom's niece Annie Christina Blue) and Jemima McCulloch (née Birnie, the minister's wife). William Benn and Annie Bruce were then aged 46 and 28 respectively.
Annie, the daughter of William and Annie (née Bannister) Chapman, was born in Windsor, New South Wales. Married first to John Charles Bruce, she was the mother of five children: Jessie Ann (b. 2 July 1872), Lydia May (b. 17 January 1874), John Charles (b. 12 June 1875), Edithe Mary (b. 28 August 1876), and William John (b. 28 July 1878). She died in the Brisbane Hospital on 17 June 1892 and was buried in the Toowong Cemetery two days later.
Evidence suggests that William Benn retired from work some time before the wedding of his daughter Minnie Kate Jessie Benn and William Francis Rodney Boyce on 15 August 1894—the year in which he turned fifty-seven. Though he described himself in 1892 as a boatbuilder in the legal papers winding up his brother John's estate, he is referred to simply as a 'gentleman' in their marriage certificate, apparently without occupation.
Minnie and her husband, a solicitor, lived in Toowoomba for some years before moving to Gordon Street, Charters Towers, where, as records indicate, they resided between 1899 and 1912. They cared for William Benn in his declining years; and he was living with them when he died on 13 August 1909 at the age of seventy-two. One of Frank and Minnie's children remembers him 'as a smallish bearded man, alert, active and promptly irately responsive to teasing from his grandsons'.