Thomas Boyland¾a farmer and close friend of the Grenier family and of many other early settlers at Cooper's Plains¾was born to John and Charlotte (née Quigley) Boyland in Antrim Ireland, about 1817. He travelled to Australia on the 716-ton barque Alfred (Captain Eastmure) which sailed from London on 7 September 1840 with 263 bounty immigrants on board. After fresh provisions had been obtained at the Cape, the ship proceeded to Sydney and arrived there on 19 January 1841. Aged 23 at the time, Thomas was accompanied by 21-year-old Sampson Courtney Boyland who, more than likely, was a cousin of his. According to shipping records, they were from County Antrim in Ireland and were recommended for the £19 bounty voyage by 'Samuel Peacock and two others'. Both carpenters, they were literate single men of the Presbyterian faith.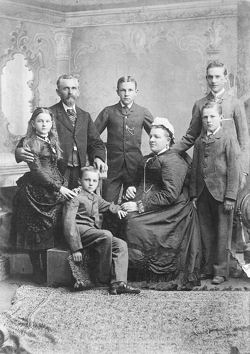 Thomas was not the first of his family to emigrate to Australia. His brother John (b. 14 August 1812, a carpenter and sawyer) and his sisters Eliza (b. 4 January 1815, a farm servant) and Sarah (b. 9 March 1816, a farm servant and dairymaid) set sail for Sydney from Plymouth on 8 October 1838 on the Andromache (Captain Thomas New). The ship with its 220 bounty passengers arrived on 31 January 1839. Eight infants died and five were born en route.
Thomas suffered a serious financial setback when, on the evening of 4 July 1848, his 'house, situated in South Brisbane, was forcibly entered, and money, consisting of sovereigns and silver, with about thirty shillings in orders, and amounting in the whole to between £40 and £50 sterling stolen therefrom'. He offered a reward of £20 for information leading to a conviction of the offender(s).
On 21 March 1849 Thomas Boyland married Margaret Orr in the Presbyterian church at Kangaroo Point in a service conducted by the Reverend Thomas Mowbray MA. The witnesses were James Reid, the business partner of John Boyland, and the bride's sister Jessie.
A few observations might be made, in passing, about these two witnesses who are part of the Boyland story. James Reid 'of the steamboat Hawk', married Ann Gallon (née Ross), the relict of Peter Gallon of South Brisbane, on 9 March 1852 in St John's Church, North Brisbane. The Reverend Henry Offley Irwin conducted the wedding service which was officially witnessed by Francis and Elizabeth Ede. James Reid became a prosperous pastoralist and land speculator. Ann died on 6 September 1864.
Jessie Orr, the 'third daughter of Mr John Orr of Brisbane', married John Wylie Wilson (b. 28 August 1828), the eldest son of Archibald and Elizabeth (née Wylie) Wilson of Dysart (Kircaldy), Fifeshire, Scotland, by special licence on 28 October 1854 with the Reverend Mr Sinclair presiding and John Orr and C Frederick Bell acting as witnesses. The couple settled in Bowen, North Queensland; and it was there at Wylie Park that Jessie died on 15 December 1897. Her 72-year-old husband, devastated by Jessie's death took his own life six months later on 1 June 1898. 'Respect for deceased and sympathy for his family were shown by nearly all the flags in the town being at half mast.'
Thomas and Margaret lived originally in Russell Street, South Brisbane. It is there that they would have met the Grenier family for the first time; for Thomas Grenier was then the licensee of the Brisbane Hotel in that street. In 1863 they moved with their growing family to Cooper's Plains where they operated the 'Chilmurah Dairy' at 'Meadowlands'—an 11-acre property bounded by Beaudesert Road, Meadow and Boyland Avenues and the interstate railway line (UBD 199), not far from God's Acre. At some stage they relocated to a new residence on a property (possibly purchased by their son George Thomas) on the corner of Boundary and Beenleigh Roads.
Thomas's pastoral activities, which focused on sheep and cattle grazing, had actually been in train for more than a decade when this move was made. According to the New South Wales Government Gazette, he had leased five tracts of land, totalling 4040 acres, on the west side of Oxley Creek. His interests also extended to the other side of the creek where he held leases jointly with a partner. In this connection it is significant that the area between Chelmer and Seventeen Mile Rocks was known as Boyland's Pocket.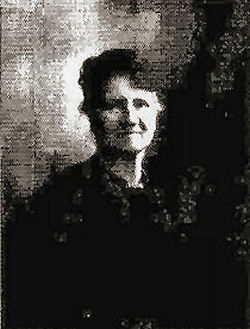 Thomas and Margaret Boyland raised a large family: John (b. 3 March 1850; d. 29 May 1938); Jessie (b. 16 May 1852; d. 28 October 1943); Albert James (b. 31 May 1854; d. 19 June 1929); George Thomas (b. 1 May 1856; d. 13 October 1908); Mary Mayne Amelia (pictured, b. 18 September 1858; d. 6 February 1964); William Henry (b. about 1861); Courtney1 (b. 21 October 1864; d. 22 October 1864); Eleanor Jane (b. 30 April 1867; d. 9 August 1959); Courtney2 (b. about 1868; d. 28 April 1956); Ernest Wylie (b. 1 January 1872; d. 7 January 1943); Francis Orr Leichhardt (b. 30 July 1873; d. 26 October 1958).
Before concentrating his efforts on his farming and dairying interests, Thomas once transported freight and passengers between Brisbane and Ipswich, initially on the steamer Experiment which he owned jointly with James Reid, and then on three steamers he had purchased (probably in partnership)¾Bremer, Hawk and Swallow. One who availed of his services on several occasions was the prominent businessman Nehemiah Bartley who in 1854 recorded in his book Opals and Agates:
The 'Swallow' steamer was sunk by catching under the wharf; she tilted, and filled by the rising tide, and the steward [Richard Brandon], who rushed on board to get his money out, was drowned in the cabin; so I travelled up and down [to Ipswich] in the 'Hawk', Captain Thomas Boyland; a guileless hard worker was old 'Dash it' (as his nickname was).
Refloated after this mishap, which occurred at Towns and Co.'s Wharf, South Brisbane, on 6 March 1854, the steamer Swallow was even more badly damaged when it ran aground at Seventeen Mile Rocks on 31 August 1855 en route from Ipswich to Brisbane with a cargo of wool and tallow.
In the shipping business Thomas was following the lead of his brother John who, in partnership with James Reid, was a South Brisbane ferryman and a pioneer of the Brisbane-Ipswich trade. Their barge, Mary Ann (50 feet x 11 feet), was launched in Brisbane on New Year's Day 1847 and soon began carrying wool and other goods between the two towns. In this connection John moved to Ipswich to supervise the erection of a large storage facility which was duly opened in September 1847. This partnership was 'dissolved by mutual consent', possibly because of failing health on John's part.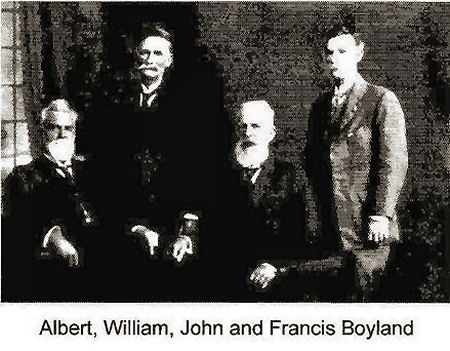 John Boyland died in Ipswich on 16 August 1853 in the presence of his brother Thomas and was buried there on the following day. In the absence of a Presbyterian minister, the local Baptist minister, the Reverend Thomas Deacon, officiated at the service. Only a month before John's untimely death, advertisements had appeared in the Moreton Bay Courier listing rates of freight for the steamboat Hawk and confirming that he and his brother Thomas had become partners..
As John, who never married, died intestate and without any dependents, Thomas signed a statement on 25 June 1862 before a commissioner for taking affidavits in which he declared himself 'heir at law' to his brother's estate. He duly inherited John's property 'in the now colony of Queensland'.
Charles Melton, writing under the pseudonym 'Nut Quad', recalled Thomas's shipping activities in one of the many articles he contributed to the Brisbane Courier:
Many of us can recall the genial captain, who was well known in connection with the river trade between Brisbane and Ipswich in the early days. In fact he was connected with the first steamboat that plied between the two towns, for in 1846, with Mr. Reid, he [or John?] purchased from Mr. J. C. [James Canning] Pearce, for £200, the unlucky steamboat Experiment, which was said to have been the first steamer built in Australia, and was stated to have originally cost about £2000. But it was as master of the steamer Hawk—built by Captain Taylor Winship, in 1840, on the river bank, about 300 yards from the present West End Brewery—that Captain Boyland was best known. The Hawk and the Swallow (the latter built by Mr. Winship in 1852) did a fair passenger trade between Brisbane and Ipswich in the fifties, for there were no coaches in those days. The steamers also conveyed large quantities of station requirements to Ipswich, whence they were taken by bullock dray to the various pastoral holdings in West Moreton and on the Darling Downs, the return loading consisting of wool, tallow, and hides. Captain Boyland was a fine type of man, who looked the strenuous life of those days squarely in the face. Earnest resolution was written in well-marked lines on his face, and his eyes had the seaman's trained keenness in their gaze. Even now one can recall his cheery voice as he called out "Let go that bow line there," when the little steamer was moving from the wharf. When the present scribe was a lad he was privileged to possess Captain Boyland's friendship, and made several trips to Ipswich with him in the middle fifties. In those far away days the steamers left Brisbane at an hour that enabled them to pass the Seventeen-mile Rocks at high water; so that while at times they left McCabe's wharf before daylight in the morning, it was often 10 or 11 o'clock in the forenoon before they got away … ['Nut Quad' goes on to name some of the squatters who were on board on a trip he made on the Hawk in September 1855 and recalls the camaraderie that existed among them. He singles out for special praise Boyland's cook 'who was a past master in the art of coffee-making'.]
Thomas Boyland had been living in Australia for 42 of his 71 years at the time of his death at Cooper's Plains on 18 June 1886. His funeral, which was conducted by the Reverend John Stewart Pollock of the Presbyterian Church, took place at 'Grenier's Cemetery' on the following afternoon in the presence of official witnesses, Job Minchenton Sr and John Rowcliffe.
The Boyland name lives on in Boyland Avenue and Boyland Street in Cooper's Plains and Seventeen Mile Rocks respectively. It is also remembered in the locality of Boyland near Canungra in the Beaudesert Shire. In this last instance the name derives from the railway station which was named on 15 October 1914 after George Thomas Boyland, the son of Thomas and Margaret, who was chairman of the Tamborine Shire Council (1907-08) and a strong advocate of the Canungra Branch Railway.