The researcher acknowledges the assistance of Joy Boyle, Paddy's widow, in preparing this entry.
Patrick Owen Boyle, the son of William Patrick and Jenny (née McLachlan) Boyle, was born in Bundaberg on 20 April 1930. His family moved to Rocklea when he was about three years old and lived in a railway house at the Beaudesert Road railway crossing gates.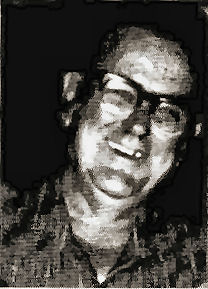 Over the years Paddy, as he was known, worked in several railways related occupations—in New South Wales as a porter and in Queensland in the railway goods section and as a guard (1960-75). He also worked as a wool presser at Longreach, as a policemen, and in the decade before his retirement in 1986 in the paint shop at the GMH plant at Acacia Ridge.
On 6 December 1952 Paddy married Thelma Joy Burnham, a telephonist, in the Holy Trinity Church, Fortitude Valley. Paddy and Joy raised five children: Lynda Joy, Glenys Joan, Gregory John, Jennifer Kay and Robert Steven.
During his retirement Paddy wrote a history of Acacia Ridge, drawn largely from his own personal experience of growing up there, and many poems. A reading of his verse was an occasional feature of the annual June gatherings at God's Acre.
Among Paddy's other activities we may record that he trained and raced greyhounds in the 70s, that he and Joy joined the Labor Party in 1986 and that he took a particular interest in the Cooper's Plains Cemetery as a member of the original God's Acre Restoration Committee.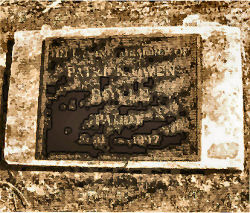 Patrick Owen Boyle passed away at his home in Dellow Street, Acacia Ridge, on 15 October 1997 and was cremated in the Laidley Crematorium five days later. Father Brendan Dooley conducted the service.
For Sam Parker, who was the best friend of the deceased, Paddy was 'like one of the family'. On his initiative Paddy's ashes were buried in the Parker family plot.