Kay Estelle Sawtell, the daughter of Alfred Lawson and Gladys Phyllis (née Tierney) Sawtell, was born in Southport on 7 February 1943. She was living in Brassall, Ipswich, and working as a shop assistant when she married bank clerk Kerry Frank Briscoe (b. 30 April 1945), the son of Cecil Frank and Ellen Jessie (née Boyland) Briscoe, on 15 January 1966. With the Reverend Christopher Temple Debenham presiding, the wedding service took place in the Church of St Thomas, North Ipswich, according to the rites of the Church of England. The witnesses to the marriage were John Worth and Hazel Inez Robinson.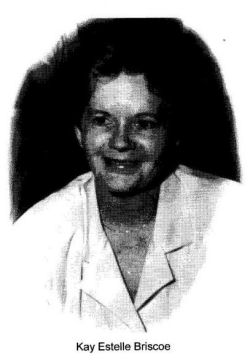 Kay died in the Royal Brisbane Hospital on 12 June 2000, leaving her husband and two children, Glen Frank and Tricia Gay, to mourn her passing. Her funeral service in the Albany Creek Crematorium was conducted three days later by the Reverend R Hannah of the Anglican Church. At the time of her death the family home was in the suburb of Everton Park.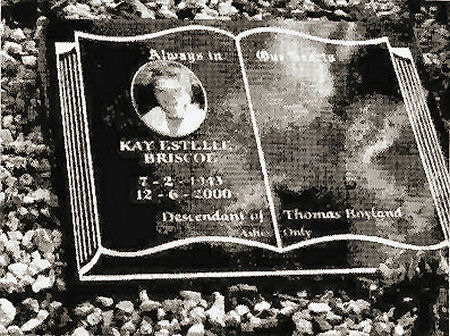 In view of Kerry Briscoe's Boyland connection, Kay's ashes were placed in God's Acre.