James Calam
was born in the village of Rillington in the eastern part of Yorkshire. At the time of the 1881 English census he was living with his parents in the 'Rillington Low Moor Farm House' which was situated on a 43-acre farm. The members of the household and their ages are listed in the census records as follows: William Calam (58, head), Rachel Calam (57, wife), Arabell Calam (22, daughter), James Calam (20, son), Alice Calam (18, daughter), Ada Calam (14, daughter), Winter [sic] Calam (9 months, grandson).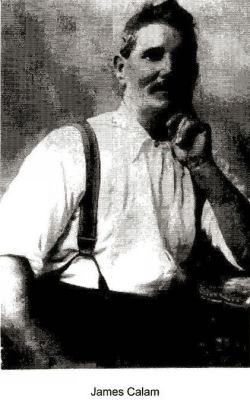 Taking account of the ages of the parents, one might ask whether other children may have died or grown up and moved out of the family home. A glance at earlier censuses will show that this is the case. Christiana (then aged 10) and Frank (9) are included in the 1861 census, and John (4) in the 1871 census. There is also a reference in IGI to an Agnes Calam, daughter of William and Rachel Calam, who was christened in Rillington, Yorkshire, on 3 June 1855.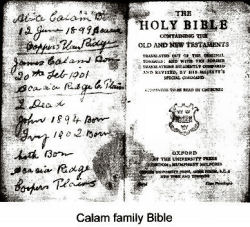 From these records we learn that William Calam was a cordwainer or shoemaker, an occupation that he was still involved in as late as 1910 when, having moved a few miles from the old family home, he and Rachel were living in the village of Thornton Le Clay in Yorkshire.
James Calam married Elizabeth Belt (b. Yedingham, Yorkshire, 8 July 1861; bap. 22 September 1861), the daughter of John (a farmer) and Rebecca (née Oliver) Belt, in the September quarter of 1881. While still in England they became the parents of George (b. 28 December 1881) and Arthur (b. 11 April 1884). Elizabeth was pregnant with her third child when she and James and the two boys set out for Australia on the BISN Company's 2,500-ton Bulimba (Captain GD Clarke). Also listed as travelling with them as their child is Herbert (aged 6) who, according to a Calam descendant, was the son of Arabell (or Arabella) Redshaw, James's sister.
The shipping records indicate that both James and Elizabeth were literate, that they were Protestants and that the family travelled as free passengers. James Calam was one of four men who had gone from Rillington to Hunmanby, another North Yorkshire village, early in January 1887 to confer with the Queensland Government envoy, George Randall, whose task it was to 'sell' Queensland to prospective emigrants as a very prosperous agricultural state.
The Bulimba left the Royal Albert Docks, London, on 25 January 1887 and Gravesend on the next day with 464 immigrants on board, 298 of them destined for Brisbane. It travelled through the Suez Canal to Batavia and Queensland's northern ports before anchoring early on 24 March 1887 in the Brisbane Roadstead whence it was escorted up the river by the Boko on the forenoon tide.
As will be indicated below, the Calams were connected to the Yorkshire Redshaws by marriage. It is interesting to note, therefore that a Redshaw family from Yorkshire was also on this voyage of the Bulimba—Aaron (30), Harriet (33), Frances (8), Richard (5), Ethel (3) and Emily (1). They travelled as free passengers and disembarked in Maryborough.
The following (unedited) letter was written by Jim Calam to his farmer master in England who kindly sent it to be read at the Queensland meeting in Newton-on-Rawcliffe on October 5th. The sister to whom reference is made in the last sentence may be Arabell who with her husband George Redshaw and their children resided at Newton-on-Rawcliffe before they set out for Queensland as free passengers on the 1145-ton Eastminster (Captain Rees) which left Plymouth on October 29th 1887.
Goodna, near Brisbane, Queensland, May 3rd 1887
Dear Friends,
I promised to write to you. We landed all safe and sound, and we thank God for a good voyage. We reached Brisbane in 8 weeks and 2 days in the good steamship "Bulimba". I got work the day after we landed to go to Peter Noble's. I was engaged at 15/- a week, and 10 lbs of beef, 2 lbs sugar, 10 lbs of flour, ¼ lb of tea, the use of a cow and half a dozen hens and wood to burn, and as many vegetables as we can eat, and I think that not bad for a start in the new and happy land. I is in a little place by ourselves, about 2 miles from the village and 4 miles from Nobles and I have it about to myself to work. It is only 17 acres of all and one part swath, so I is not killed with work. It is on the river side and the railway on the other. It is a fine place to live and very fine country to live in. There is plenty of jobs at 6/- day and 8/- but they aren't any good. They are hard to work. I think to settle down is the best at a regular thing and have easy work. Farming here ain't like farming at home. It is more like gardening. You might perhaps like to know if it is right that they can get 2 crops or not. They can get 3 crops of one piece of land if they look after them and get them sown. You know yourself if they are not put in they won't come up. Indian corn is from 8 to 12 weeks from sowing to being fit for market, and they can grow potatoes in between the rows, as they are two foot wide. We never do anything but plough and plant. There is no working land here, no summer fallow, no wicks, no muck plugging. I start work at 7 in the morning and leave at 5 at night and work as hard as I like and as easy. It is coming on winter now, and it is as warm as you would have it in June. We have just got out hay led, and I is ploughing the ground to sow with clover. They call it lucerne here. It is fit for cutting every month, and it is £8 a ton when it is chopped up. Horses and cattle is cheap. I can buy a cow for £3 as good as any you have on your place, and good beef at 3d a lb as you will give 10/- a stone for at home, and a good horse for £10 as any man would want to put a collar on. There is plenty of grass and straw that make cattle cheap. There is thousands of acres not fenced in that one can turn there cattle out in. It is government land. There is thousands of acres of land that whither man has not put foot on as yet. The trees about here are very high from 80 to 100 feet and very clean in the hole [bole?], and will split very straight and regular, so that people can build there houses with them. They are all wood houses here, and if you were to see them, you would think them were very queer to what you see in England. People are not as fine and proud as they are at home. They seem to get some land of there own, and build their own houses, and they havent the land lord coming on their door steps for the rent, and that is what I mean to be before long. I is not afraid that I can make a better living here than in England. I think that there is a lot of weak headed people that is standing at Rillington Corner hungering and starving and will die before they leave the country to come in a new and happy land. I think there is a lot that has a good chance as me to get here and can land with as much money as I did, for I only had 7½d when I left London. I bought a gun and it took all but that. I thought I would be a man or a mouse. You would think you would want a good heart in your belt [belly?] to start a journey of 15,000 miles with 7d in your pocket and a wife and 2 children at your heels, and I sent you a letter cost 6d landed like a man with 1½d in my hands. I would rather land here with a 1d and stay than with £5 in my pocket. I have a £ now and no one wants it here, and that is more than I would have in England in 5 years, and I mean I have £100 before long if I have good health and strength, and that is if God will allow me to have it. George likes his place well, says the country is far before low-marr [?], up to knees in clay. Tell my sister we are alright and happy.
Eight more children were added to George (pictured) and Arthur in Australia: Rebecca (b. 20 July 1887; m. William Thomas Hedley 19 February 1908), Kate (b. 3 February 1890; m. Frederick Jeffery 22 June 1911), Frank (b. 9 June 1892; m. Pearl Irene Spencer 6 October 1917; d. 4 April 1954), John (b. 22 October 1894; d. 5 April 1895), Ada (b. 25 January 1896; m. Julius Richter 29 July 1916; cremated 16 June 1977), Alice (b. 3 July 1899; m. James William Varney 11 October 1919), James Jr (b. 20 February 1901; m. Kate Emily Dawes 10 November 1923), Ivy (b. 24 February 1902; d. 30 July 1902). For the record, the details of the two children born in England are as follows: George (b. 28 December 1881; m. Elizabeth Palmer Compton 16 December 1908), and Arthur (b. 11 April 1884; m. Ellen Compton 3 April 1915).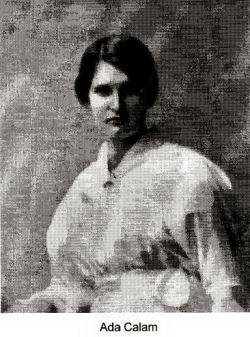 Ivy Calam, the youngest of these children, was the first member of the family to be interred in God's Acre. Two days after her death on 30 July 1902 at the age of five months her funeral service was conducted by the Reverend B Peterson of the Lutheran Church. Elijah Beckett certified the burial which was officially witnessed by W Edwards and George Boyland. Ivy was the second of the Calam children to die in infancy, John Calam having passed away at 'Park Ridges' near Waterford on 5 April 1895 before the family moved to Acacia Ridge. John's remains were laid to rest on 7 April 1895 in the Chambers Flat Cemetery. William Scott conducted the service at the burial which was certified by John Story and officially witnessed by Charles Howin.