Mary May Grenier (b. 3 June 1871) was the elder of the two daughters of George Alexander and Sarah Mary Agnes (née Greenwood) Grenier and the grand-daughter of Thomas and Mary (née Pannell) Grenier. The following list establishes her place in the family: Thomas Leichhardt (b. 10 October 1864; d. 5 January 1927), unnamed male (b. 26 February 1866; d. 4 March 1866), George Alexander Jr (b. 20 March 1867; d. 7 August 1924), James Franklin (b. 31 January 1869; d. 6 April 1935), Mary May (b. 3 June 1871; d 22 July 1946), Sarah Lily (b. 22 November 1873; d. 19 September 1928), Ernest Pannell (b. 4 April 1876; d. 26 November 1943), William Pannell (b. 29 July 1878; d. 9 December 1958) and Reginald Courtenay (b. 27 February 1882; d. 3 November 1948).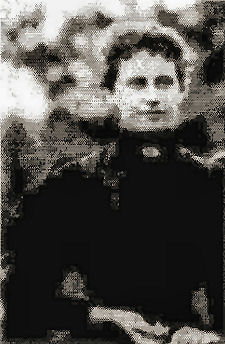 May Cameron worked in hotels and boarding-houses and for some years acted as housekeeper for the old and prestigious Queensland Club in Alice Street, Brisbane. After the death of her sister, Sarah Lily, who was a qualified nurse, she cared for the latter's husband, Dr Robert Wallace (b. Glasgow 21 September 1876; d. Brisbane 2 November 1936), for about three years and later looked after Ellen Pauline (Girlie) Appleby (her first cousin once removed who was expecting a child) and her four daughters at Lonsdale, Terrace Street, Toowong. Ever generous, she also nursed her mother for a few months before her death at the age of 78 on 27 May 1924. At that time May was living at 'Gloucester' in Russell Street, South Brisbane.
Mary May Grenier married Donald Stuart Cameron, the son of William Cecil and Jane (née Poole) Cameron, on 29 June 1899. They had no children. He died on 30 November 1937 and was cremated on next day at the Mount Thompson Crematorium.
May passed away in the Goondiwindi District Hospital on 19 July 1946 and three days later, following a Roman Catholic service in the Mary Immaculate Church, Annerley, was buried in the Cooper's Plains Cemetery. Those present in an official capacity at the committal were: CH Cripps (undertaker), Father Cecil W Shand, and G Hughson and JK Armstrong (witnesses).