The researcher acknowledges the assistance of Garry and Rhonda Crompton, Jill Clark and Denise Pianta in preparing this material.

George Catchpole, one of three brothers and one sister who migrated to Queensland, was born in Bardwell, a small village in Suffolk about 10 miles NE of Bury St Edmunds. It was there that his parents, John (a farm labourer) and Hannah (née Banham) Catchpole, were married on 8 November 1814 and that he was born about 1822.

In the December quarter of 1845, George married Mary Ann Ruddock (b. 14 February 1829), the daughter of Thomas and Maria (née Plummer) Ruddock. When the English census of 30 March 1851 was taken, he was living with his widowed and impoverished mother-in-law in the Ruddock family home in Knox Lane, Bardwell. The composition of the household was as follows: Maria (50), George (29, agricultural labourer), Mary Ann (22), Ann Maria (2, George and Mary Ann's daughter), Caroline (17, Mary Ann's sister) and Elizabeth (80, Maria's mother). Indications are that Mary Ann died a short time later.

After the publication of banns on three successive Sundays in September 1852, the widowed George Catchpole married Maria Balaam, the daughter of Joseph and Mary (née Hurrell) Balaam, on 9 October 1852 in Honington, Suffolk. Witnessed by Elizabeth Balaam and George Hurrell, the service was conducted according to the rites of the Established Church by the local curate, the Reverend FP Willington.

George and Maria Catchpole (aged 34 and 24 respectively) and their children—Maria (the child of George's first marriage, 8; m.1 John James Wood 1 February 1866; m.2 Michael Ray 3 January 1889; d. 1 November 1928), Charles (3; m. Elizabeth Fritz 20 April 1881; d. 6 June 1932), and Robert (an infant; m. Elizabeth Cronk 14 March 1885; d. 28 February 1938)—travelled to Brisbane on the 996-ton Hastings (Captain Alexander Newlands). Also on board were George's brother and sister-in-law, Robert Catchpole and Charlotte Bloomfield (the daughter of Zephaniah and Margaret Bloomfield), both aged 22 years. Shipping records indicate that George and Robert were labourers, that all of these travellers were adherents of the Church of England and that, with the exception of Charlotte who was from Norfolk and who was the only literate member of the two couples, they hailed from Suffolk.

With 388 government immigrants on board, the Hastings left Birkenhead on 24 February 1857 and arrived in Brisbane on 30 May 1857. Members of the Phipps family, several of whom lie buried in God's Acre, were also on this voyage, as were George and Robert's sister and brother-in-law, Hannah and Samuel Manning, and their infant daughter Emma who died on 10 June 1857, a week after the arrival of the ship. The appreciation of the travellers for the care shown them by the captain, his crew and the ship's surgeon-superintendent (Dr Robert Tunmer) was expressed in newspaper advertisements soon after their arrival. Robert and George Catchpole, Samuel Manning and Joseph Phipps were among the signatories.

Sad to relate, George's brother Robert (bap. Barnham 22 February 1835) died on 13 June 1857, within two weeks of his arrival in Australia. Compounding her grief, Charlotte gave birth four days later to an unnamed daughter who died on the same day (or who was perhaps stillborn). On 2 September 1858 she married again, this time to Noah Minchenton, the son of John and Elizabeth (née Allen) Minchenton; and they became the parents of Florence Elizabeth who was born on 10 June 1859. Widowed for the second time when Noah passed away six months later on 15 December 1859, Charlotte then married Noah's brother Job on 11 February 1861; and together they raised (in addition to Florence Elizabeth) seven children: Abigail (b. 20 August 1861), Charlotte Aveta (b. 10 June 1863), Amy Selina (b. 30 January 1866), Job Jr (b. 19 May 1868), Lydia Margaret (b. 2 June 1870; d. 18 November 1946), Noah (b. 15 June 1872; d. 10 July 1946), and Edith Harriet Beatrice (b. 4 April 1876).

The remains of Charlotte Minchenton (d. 15 June 1885) and her husband, Job Sr (d. 21 December 1907), lie in the South Brisbane Cemetery.


On a happier note, George and Maria's family grew after their arrival in Queensland with the addition of:

Mary Jane

(pictured, b. about 1859; m. William Leichhardt Grenier 29 May 1878; d. 6 August 1946), Sarah Louise (b. 3 June 1861; m. Thomas Crompton 30 June 1880; d. 23 August 1944), Abigail (b. 9 August 1863; m. James Crompton 23 January 1884; d. 4 September 1922), Agnes Christi(an)na (b. 11 October 1865; m. William Crompton 23 January 1884; d. 8 December 1943), Alice Lavinia (b. 12 August 1868; m. Philip Perronett Marshall, a widower, 2 April 1888; d. 22 January 1960), George Abner (b. 14 May 1871; d. 22 January 1881), Frederick William (b. 4 January 1874; m. Selina Quick 9 November 1898; d. 22 May 1952), and John Bertram (b. 17 May 1877; m. Amelia Eliza Logue 20 May 1897; d. 4 June 1939).


George Catchpole Sr worked for many years as a bullock driver until in 1885 he took over the running of the Rose and Crown Hotel near Stable Swamp, Acacia Ridge. The licence of this 'natty little pub', the scene of many social occasions, had been held from 1872 by his brother-in-law Samuel Manning.

George died on 29 September 1886 and his remains were committed to the earth in the Cooper's Plains Cemetery on 1 October in a service presided over by the Reverend James Samuel Hassall of the Church of England. The official witnesses were Edgar Bletchly and JF Abercrombie and the undertaker was William Ferguson. The following death notice appeared in the Queenslander:

CATCHPOLE.—On the 29th September, at his residence, Rose and Crown Hotel, Cooper's Plains, George, the beloved husband of Maria Catchpole, aged 64 years, and late of Oxley Creek.

Also on the 11th October, at his parents' residence, Warren-street, Valley, Thomas Robert, the beloved son of Thomas and Sarah Louisa Crompton, aged 2 years 1 month and 15 days, and Grandson of the above.

Maria conducted the hotel for a further two years until the licence passed to George Standen.

Maria Catchpole, George's wife and the daughter of Joseph (a carrier) and Mary (née Hurrell) Balaam, was born in Sapiston, Suffolk, and christened there in St Andrew's Church by the Reverend Arthur Rogers (d. 1840) on 3 February 1833. Her father, the son of William and Mary (née Palmer) Balaam, married her mother, the daughter of Richard and Mary Hurrell, on 26 January 1830 in nearby Troston. Maria Balaam's brothers and sisters were: John Palmer (1831-1890), Elizabeth (b. 1834), Sarah (1837-1921), Martha (1840-1927), Abner (1843-1860), Alfred Ephraim (b. 1845), Julia (b. 1847) and Louisa (b. 1851).

Of these siblings Sarah and Martha (b. Sapiston 13 April 1840) are of special interest to us because they emigrated to Australia. Martha Balaam, who married John Best on 28 April 1864, died at Sandgate, Queensland, on 21 March 1927. Sarah Balaam married Edward Flood, the son of Joseph and Augusta (née Smart) Flood, on 1 February 1866. She died on 19 August 1921 and was buried in the Toowong Cemetery in the grave (5 7 16) that had already received her husband's remains (d. New Year's Day 1905).

Maria Catchpole, George's widow, passed away on 9 May 1918 and was buried from her Oxley residence two days later in the Cooper's Plains Cemetery. The Reverend AL Brine presided at the graveside and Charles William Lyon (undertaker) and George Lyon Dunlop were the witnesses to the burial.

George Abner Catchpole, the son of George and Maria (née Balaam) Catchpole died from typhoid fever at the age of 9 on 22 January 1881. On the same day he was laid to rest in 'Grenier's Cemetery' with his brother-in-law, Thomas Crompton, acting as undertaker. The Reverend James Samuel Hassall of the Church of England conducted the service and George Bowler and Edward Flood acted as witnesses.


Alice Maria Catchpole, the grand-daughter of George and Maria Catchpole and the daughter of Robert and Elizabeth (née Cronk) Catchpole, was born on 19 October 1888 at Brown's Plains and died in Beaudesert on 14 January 1892. One of the many children buried in the Cooper's Plains Cemetery, she was laid to rest on the day after her death. The burial, certified by Robert's brother-in-law William Leichhardt Grenier, was presided over by the Reverend James Samuel Hassall of the Church of England in the presence of W Berg and James Cecil (witnesses).
Alice Maria's mother, Elizabeth Cronk (b. 16 September 1867), the daughter of Henry and Harriett (née Webber) Cronk and the niece of Thomas Webber who very likely is buried in God's Acre, married Robert Catchpole (a timber getter) on 14 March 1885. In addition to Alice, their children were: Elizabeth Jane (b. Christmas Day 1886; m. Walter James Toney 13 April 1914), William James (b. 13 May 1891), George Henry (b. 6 February 1901; d. 7 January 1925), and Robert Charles (b. 8 December 1908).
Robert Catchpole, Alice's father, died on 28 February 1938. His obituary notice, which appeared in the Beaudesert Times, is included here because it provides us with some interesting information not only about the Catchpole family but also about their link with the Greniers.
MR. R. CATCHPOLE
The death occurred at the Beaudesert Hospital on 28th February of Mr. Robert Catchpole, at the age of 80 years. The late gentleman was born in Suffolk, England, and came to Queensland in the year 1858 [1857]. He came to Brisbane and lived with his parents [George and Maria Catchpole] at Oxley for a number of years. He used to go with his father carting rations to the West with bullocks and bullock dray. He afterwards worked in a butcher's shop at Oxley, and then he worked on Mr. George Grenier's farm at Oxley Creek. Later he started out on his own bullock driving, and he was drawing timber from Brown's Plains to Oxley wharf. Then he went to Canungra with his wife and family drawing timber for Leahys' Ltd., Beaudesert. Later still he was driving bullocks for Mr. Edgar Stephens, of Darlington, and then he left to go out West, carrying rations to the stations and bringing two years' wool back to Charleville. He travelled from Charleville to Beaudesert with his bullocks. Deceased married Miss Elizabeth Cronk in the year 1885, and made his home in Beaudesert, where he worked in Leahys' mill. When the old mill was burnt down he went to work for Leahys' mill at Corinda, where he remained until the time of his retirement, when he returned to Beaudesert to end his days with his wife and family. The funeral, which was directed by Mr. J. C. Barrett, took place to the Beaudesert cemetery last Tuesday. Reverend J. W. Johnson officiated at the graveside. The late gentleman is survived by his widow, one daughter (Mrs. Toney, Boonah [the wife of Walter James Toney]), and two sons (William and Robert, both of Brisbane). There are eleven grandchildren, five great-grandchildren, two brothers and four sisters, all of Brisbane. One daughter and one son predeceased their father by some years.
Elizabeth Catchpole, Robert's wife, was living in Pitt Street Beaudesert when she passed away on 16 August 1957 at the age of 89, having survived her husband by many years. She was buried in the Beaudesert Cemetery on the following day after a service in St Thomas's Church of England.


Edmond Catchpole, the brother of the above-mentioned George and Robert Catchpole, married Emily Linge (or Laing?), the daughter of William (a gamekeeper) and ?? (née Garricole) Linge, in the December quarter of 1854. They emigrated to Australia on the 1616-ton Royal Dane (Captain James Cooper) in 1874. The ship departed from Gravesend on the afternoon of 24 January, rounded Tasmania on 22 April, reached Cape Moreton a week later and was towed to anchor by the steamer Kate on 1 May 1874. The members of the family, who were free passengers, were listed as follows: Edward [sic] (42), Emily (41), Anna E (16, Hannah Eliza, known as Annie), Charles W (14), Alice (11), Emily (7), Mary (3; her correct name is Margaret).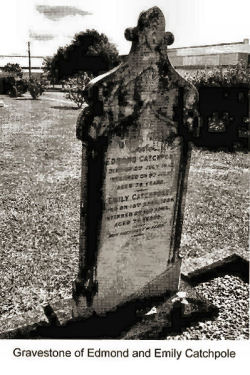 The last mentioned child, who passed away on 23 March 1874, was one of the 14 people who died en route, probably a victim of the measles outbreak which was rife for almost two months. On 25 May 1874, a few weeks after the end of what must have been a very trying voyage for her, Emily gave birth to a son, John Edward.
John Edward Catchpole lived barely fourteen months and died on 1 August 1875. His death certificate indicates that he was buried at Cooper's Plains on the following day; and we may be reasonably certain that this is a reference to God's Acre, the final resting place of his parents and other members of the Catchpole family. Assisting at his burial were Samuel Manning (acting undertaker), the husband of Edmond's sister Hannah, and Thomas Boyland and Job Pratten (witnesses).
Edmond Catchpole, who was christened in Barnham, Suffolk, on 22 July 1832, died in Veresdale on 8 July 1910 and was buried in the Cooper's Plains Cemetery, on the following day, in the same grave as his deceased wife. The undertaker was Albert A Hislop; the presiding clergyman was Thomas Lewis Jarvis of the Joyful News Mission; and the witnesses were Robert H Croakall (?) and H Stone.
Emily Catchpole the wife of Edmond was born in Suffolk. She passed away on 10 April 1909 at the age of 76 years; and her remains were interred in God's Acre two days later. Present in an official capacity were: Abraham Hislop (undertaker), the Reverend Jarvis B Johnson of the Good News Mission, and WA Mitchell and A Rickwood (?) (witnesses).