Robert Werner Copas and his 'wing-walker' friend, Lisa ('Lace') Maxwell, are remembered in this book not because of any connection they might have had with the pioneer families of God's Acre but because of a monument to their memory that has been erected in these grounds. They died on 1 May 1994 shortly after their vintage Tiger Moth biplane had taken off from the Luskintyre Airfield in the Hunter Valley. It nosedived to the ground and exploded about 4 km north-west of Lochinvar, near Maitland, in New South Wales.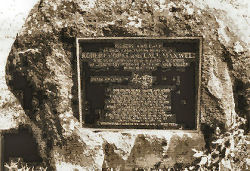 Bob ('Woolly') Copas, a master pilot, and Lace Maxwell, 'a vivacious fun-loving person', 'had been wing-walking many times before'. On this tragic occasion they were carrying out an acrobatic stunt routine for about 40 members and relatives of CanTeen (the Australian Teenage Cancer Patients Society). The traumatised youngsters had been camping in a hangar over the weekend and had taken joyrides in the 1931-designed Tiger Moth.
Bob's cremation service took place at the Mount Thompson Crematorium on the afternoon of Friday, 6 May, 1994.
The following death notices appeared in the Courier Mail:
COPAS, Robert Werner, aged 41 years, late of Toowong. Passed away doing what he loved, 1st May 1994. For Funeral details, see today's Funeral Notices.
COPAS, Robert. The Qld Vintage Aeroplane Club would like to extend their deepest sympathy to the Family of Bob Copas. Fondly remembered by your friends.