Hanna Andersen was born about 1839 in Denmark where, at the age of 33, she married Niels Danielsen. They emigrated as full-paying passengers on the 773-ton immigrant ship Herschel (Captain EA Friedricks) which left Hamburg on 1 April 1874 and arrived in Brisbane on 16 July 1874. Their first child, Anna Dortia (possibly Dorothea), was born en route but died on 10 October 1874, three months after their arrival.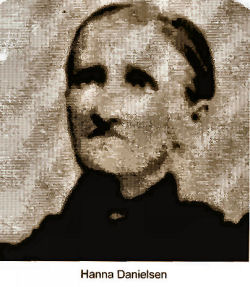 Some details of the widowed Hanna's tragic death in a railway accident on 1 March 1908 are recorded below in newspaper reports. Her funeral, presided over by the Reverend EA Selby Lowndes of the Church of England and certified by Abraham Hislop (undertaker), took place in the Cooper's Plains Cemetery on 3 March 1908 in the presence of witnesses, John Paine and George Sutherland. She left two daughters, Anna Maud (or Maria as she preferred) Dorothea (b. 29 June 1876) and Olga Amelia Eleanor (b. 10 March 1879, known as Olive).
A magisterial enquiry into Hanna Danielsen's death was conducted in Brisbane on 19 March 1908 by Robert D Neilson JP. It was revealed that the deceased had left home about 9 a.m. intending to visit her elder daughter, Mrs Larsen, at Qualtrough Street, Woolloongabba. However, it seems that Hanna revised her plans; and at 10 a.m. she called on Mrs Alice Davidson at Sunnybank. She remained at Mrs Davidson's house until about 6 p.m. when she left for the Sunnybank Station accompanied by her friend's young son. Those called to make submissions were: Robert West (the driver of the train which left the South Brisbane Station at 9.30 p.m.), James Thomas Campbell (the train fireman), Alice Davidson, Cecil Elms (the 14-year-old son of the Sunnybank station master), Constable Henry Gay who accompanied the remains to the morgue, and Olive Drew (Hanna's younger daughter with whom Hanna lived and who identified the body).
The following accident reports appeared in the pages of the Brisbane Courier:
A fatal railway accident occurred near the Sunnybank Station last evening. A woman, who has not yet been identified, was run over, and the body was so dreadfully mangled as to be unrecognisable. It is understood that the deceased purchased a return ticket to South Brisbane at Cooper's Plains Railway Station at 8 a.m. yesterday.
The body of the woman who was killed on the railway line near Sunnybank on Sunday night was identified early yesterday morning as that of Mrs. Anna Danielson, a widow aged 60 years, who resided with her married daughter at Acacia Ridge, Paradise-road, Cooper's Plains. It is understood that Mrs. Danielson alighted from the train at Cooper's Plains station to walk to her home about two miles distant. The night was dark, and it is supposed she lost her way and wandered about, until she got back to the railway line. Her intention evidently was to reach the nearest station, but, being very deaf, she did not hear the train coming, and was struck down, and instantly killed. An inquiry will be held.
Anna Maria Danielsen married Andreas Larsen, the son of Lars and Anna Katharina (née Olsen) Nielsen, 29 June 1893. Their children were: Hanne Catherine (b. 26 April 1894), Anna Marie (b. 25 May 1895), Mary Ann (b. 9 August 1897; d. 27 August 1897; bur. God's Acre), Agnes Emilie (b. 6 April 1899), Dorothea Jessie Olgar (b. 29 June 1902), Harold Andreas (b. 4 March 1908, three days after the tragic death of his maternal grandmother; bur. Toowong, 9 January 1985), Doris Adeline Norma (b. 24 September 1911). Andreas died on 6 June 1947 and was buried on the following day in the South Brisbane Cemetery. Anna Maria died on 30 October 1958 and was laid to rest in the same plot (O 353) two days later. Before her death she had been resident in Keeling Street, Cooper's Plains.
Olive Danielsen, Hanna's youngest daughter, is deserving of a special mention in these pages. She took over the running of the Acacia Ridge Post Office (near the Rose and Crown Hotel) in Chardean Street on a temporary basis early in 1899; and, on the strong recommendation of the local people, she was soon appointed officially as postmistress—an office she was to hold for almost 50 years.
Olive married a railway workshop employee, Samuel Henry Drew, the son of Samuel Richard and Janet Lucy (née Knapman) Drew, on 19 December 1901; and they became the parents of two sons—Henry James Percy (b. 4 June 1902, known as Jim), and Alfred Daniel Andreas (b. 15 May 1904, known as Alf). In connection with all three of these events Olive's name is recorded as Olive Amelia Eleanora Daniels. The image below shows her at a fancy dress ball for the War Effort on 31 October 1918 at which she awarded first prize.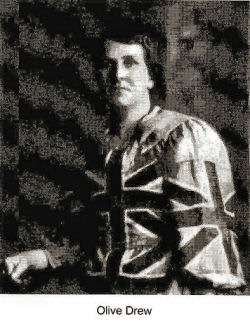 After the death of her husband in 1915 Olive battled on; and, in addition to raising her own sons, she fostered 30 other children in her own 'five-roomed, two-verandahed house'. In the midst of this activity she still found time to take Sunday School classes for five years. Olive's health, which had always been robust, began to give cause for concern by mid-1945; and on 1 December 1947 she resigned from the post office. For a time she lived in retirement with her son Alf; and in her 89th year a heart attack brought about her demise on 6 March 1968. Her remains were cremated at Mount Gravatt Cemetery.
Having established Olive's parentage, we might add a word about her husband's family background. Samuel Henry's father, Samuel Richard Drew, a watch and clockmaker of Okehampton, a market town in central Devon, married Janet Lucy Knapman, the daughter of John (or Arthur?) and Louisa Janetta (née Cornish) Knapman in the December quarter of 1872. Travelling second class, they emigrated to Australia on the BISN Company's 2023-ton Duke of Buccleuch (Captain W Winter), leaving Plymouth on 30 March 1884. After the disembarkation of some passengers at ports in North Queensland, the ship arrived in Brisbane on 25 June 1884 and was assisted up the Brisbane River by the Boko on the next day. The Drew family was made up of Samuel (aged 35), Janet (28), Janetta (10), Arthur (7), Samuel Henry (5). More children were born to Samuel and Janet after their arrival in Brisbane: Amy Ethel Emily (b. 20 September 1884; d. 27 May 1936), Ernest William (b. 4 February 1888), John Richard (b. 29 May 1890; d. 14 August 1890), Mary Elizabeth (b. 29 May 1890; d. 24 November 1890), Jessie Tamezen (b. 9 January 1893), Edith Lucy (b. 17 December 1894) and Frederick Walter (b. 6 June 1898; d. 22 July 1943).
Samuel Richard Drew established a jewellery business in South Brisbane where a sign on his premises stated that he was the 'Official Clockmaker to the Queensland Government and the South Brisbane Tramway Company'. He died on 28 December 1915 and was buried on the following day in the South Brisbane Cemetery in a grave (4 225) that would later receive the remains of his wife Janet (d. 12 January 1919) and their daughter Amy (d. 27 May 1936).
Private Samuel Henry Drew served in the Boer War—first as a member of the 3rd (Queensland Mounted Infantry) Contingent from 1 March 1900 to 7 June 1901 and later as a member of the 7th Battalion Australian Commonwealth Horse (Queensland) from 19 May 1902 to 2 August 1902. A photograph of him in uniform appeared in two issues of the Queenslander (the weekly edition of the Brisbane Courier). Using the name Samuel Henry Kingdon (perhaps because he was too old), he enlisted in the 25th Battalion Australia Infantry in 1915 during World War One. One source claims that he was among the many Australian soldiers who died in action at Gallipoli in August 1915. In fact, Samuel Henry died at sea from pneumonia on 30 August 1915 and, presumably, was buried at sea. His memory is honoured in the Chatby Memorial Cemetery in Alexandria, Egypt, where almost 1,000 Commonwealth servicemen who died in World War One and have no other grave but the sea are commemorated.