The writer acknowledges a considerable debt of gratitude to Fred and Alma Willis for much of this well-documented research.
Edward Dunlop, the son of James (a linen weaver) and Maria (née McGowan?) Dunlop, was born in Ahoghill (pronounced ah-HOCH-ill), about four miles from Ballymena, County Antrim, Ireland, in about 1850. He married Annie Teresa Josephine Doran, the daughter of Thomas (a merchant) and Mary (née Christian) Doran, on 1 December 1877 in the Roman Catholic Chapel of St James in Dublin. The witnesses to the marriage were James and Mary Doran. At that time, Edward was employed as a drayman at the Guinness Brewery. The firm's records indicate that he joined their service aged 22 in the forwarding (transport) department on 29 May 1871 and left on 29 April 1880. He then took up a position in the railways.
Three children were born to Edward and Annie before they decided to emigrate to Australia in search of a better life—Anne1 (b. 21 April 1878), James (b. 4 February 1880) and Thomas (b. 5 October 1881). Sadly, the firstborn child died on 15 August 1878; and the family experienced a second bereavement six months later when Annie's brother James Doran passed away in her presence on 17 February 1879.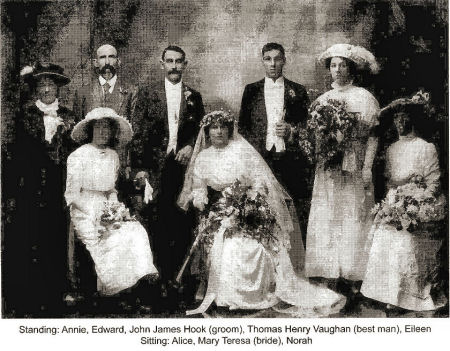 Edward and Annie and their two surviving children were among the free passengers on board the 987-ton Otago (Captain Hugh Falconer) which left Greenock Bank (Glasgow) on 23 December 1882 and dropped anchor in the Brisbane Roadstead, Moreton Bay, on 5 April 1883. After the vessel had been granted pratique on the following day, the newcomers were transferred to the Government steamer Kate and were landed at Queen's Wharf about 4.30 p.m. It had been an especially trying voyage for Annie who was pregnant and caring for a sick child, James, who died from croup on 1 March 1883 at latitude 42º 59 S/longitude 36º 59 E soon after the ship began its long run across the Indian Ocean. One of more than 20 passengers who did not survive the journey, James was buried at sea at 6 p.m. on the same day in a service officially witnessed by his grieving father and the Surgeon-Superintendent Dr FE Hare. On a happier note, there were five births en route.
At the time of their departure from Ireland, the Dunlops' address (cf. James's death certificate) was 34 Usher's Quay, Dublin—a few doors from the prestigious Castleknock College founded in 1833. Given that the receipt for his passage was issued on 4 November 1882 by Wells and Holohan, agents for the Midland Railway in Dublin, it seems likely that Edward intended to secure a job with the Queensland Government Railways. He was working on the Ipswich to Grandchester (originally Bigge's Camp) railway line when Annie2 was born on 12 May 1883, six weeks after the family's arrival in Australia.


More children were added to the family in the years that followed: Edward James (b. 5 July 1885), Mary Teresa (b. 6 September 1887), Norah Bridget (b. 8 June 1889), Eileen Maud (b. 2 October 1891), William (b. 13 May 1894), Alice Helen (b. 15 May 1897), and Herbert John (b. 27 December 1901).
In the 1903 Commonwealth Electoral Roll Edward (a lengthsman) and Annie (station mistress) are listed as living in Pimpama. The same occupations are noted in the 1913 roll when they were living in Cooper's Plains.
A railway employee of many years standing, Edward Dunlop died at his residence in 3rd Avenue, Cooper's Plains, on 29 August 1929 aged 79 years. His burial in the Cooper's Plains Cemetery took place two days later. The service was conducted according to the rites of the Catholic Church by Father Owen Steele and witnessed by A Thompson and J Dunstan.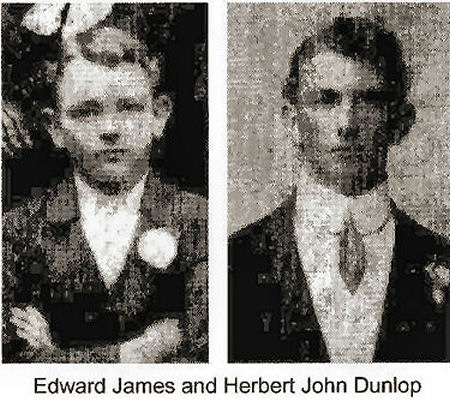 Annie Dunlop was born on 17 July 1857 in Malahide on the east coast of Ireland about 16 km north of the Dublin City Centre and was baptised two days later at Baskin (Baskin Lane?) in the Roman Catholic parish of Swords. The presiding priest was the Reverend Thomas Kieran (Kiernan?) and the witnesses were John Quinn and Margaret Carey.
Annie passed away in the Brisbane Hospital on 16 December 1929 and was buried on the following day in the grave that had received her husband's remains a few months before. A Catholic priest, Father James D Kelly, officiated at the burial which was witnessed by A Thompson and J Dunstan and certified by Alfred Cannon of the well-known firm of undertakers Cannon and Cripps.