Isabel Ada (Bel) Rookwood was the daughter of William Rookwood, the elder son of Arthur and Elizabeth (née Forshaw) Rookwood, and Ada Frances Riley the daughter of George and Agnes (née Crane) Riley. Her parents were married on 26 September 1906.
Bel was born on 19 January 1909; and two weeks later, on 2 February, her mother passed away in the Victoria Private Hospital, South Brisbane, as a result of postnatal complications. She was cared for by her maternal aunt Florence whom William Rookwood married on 12 April 1910. Before their move to Pomona, William and Florence lived in John Street, Cooper's Plains.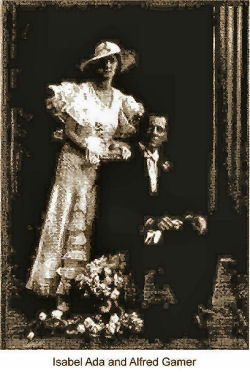 Isabel Ada Rookwood married Alfred Gamer in Gympie on 1 December 1934. They raised five children: Bevan Alfred, Leigh William, Carol Isabel, Christine Hilda and Paul David. Isabel Ada died on 29 October 2005 aged 96 and was cremated at the Mount Gravatt Crematorium on 4 November 2005. Her ashes were later deposited on her father's grave at God's Acre.
For more details about Isabel Ada's Rookwood ancestry and about her step-brothers and step-sisters, the reader is referred to the Rookwood entry in this book.
Alfred Gamer was born in Oberhausen, a city in the Ruhr region of North Rhine-Westphalia, Germany, on 6 April 1907. He was still an infant when, with his parents Leopold and Augusta (née Plotzki) Gamer and his siblings (Hertha who is still alive at the time of writing aged 105, Ewald and Elfriede), he emigrated to Australia on the 9023-ton RMS Orontes (Captain Ruthven). Accompanying the Gamers were Augusta's parents Karl and Augusta Plotzki and their children: Karl Jr, Maria, Wilhelm, Gustav and Helene. Also among the passengers were Augusta Gamer's sister Emma Scherer and her family—husband Auguste and children Augusta, Egon, Elsa and Emma.
The ship left London on 27 December 1907 and berthed at Pinkenba (Brisbane) on 10 February 1908 with a large number of German immigrants, many of them agricultural workers, on board. It was at the urging of Pastor Niemeyer of Hatton Vale, who was intent on establishing a settlement at Baffle Creek north of Bundaberg, that many of them had decided to come to Australia.
Alf Gamer was living in Mount Gravatt at the time of his death on 27 August 1983. He was cremated at Mount Thompson Crematorium three days later.