That the following entry on Thomas and Mary Grenier is easily the longest in the book is not due to family pride on the part of the researcher. Rather, it is intended to give the reader a more comprehensive understanding of what our pioneers in pre- and post-Separation Queensland endured when they left their homes overseas and began a new life on the other side of the world. It is also fitting that we recognise the unique link that Thomas and Mary had to the place we commonly call God's Acre. What is now their last resting place was once part of the fields they surveyed from their home and that they cultivated with hard and persevering work. A much fuller account of their life and times may be read in this writer's Thomas and Mary Grenier: Brisbane Pioneers, Brisbane, 2002.
Thomas Grenier, one of our pre-Separation pioneers, was living in Kororareka (present day Russell) on New Zealand's Bay of Islands when he heard that the first sale of land in the Moreton Bay Settlement would take place by auction in Sydney on 14 July 1842. He crossed the Tasman and, having made a successful bid of £31 for Allotment 14 in Section 1, travelled north on the 200-ton steamer Shamrock to inspect it and to survey the scene. This 36-perch block stood in Grey Street directly opposite what is now the entrance to the South Brisbane Railway Station.
On his return to New Zealand Thomas was able to tell his family that their future was a little more secure in the event that a Maori uprising should make life too difficult for them. For the most part, the Maoris related well with the settlers; but their implacable opposition to the British military presence was a constant source of friction.
This problem came to a head when Hone Heke and his ally, Te Ruki Kawiti, sacked and torched the township on 11 March 1845, leaving only the Anglican church and the residence of the Catholic bishop undamaged. Thomas and Mary and their six young children fled to Auckland on the British whaling vessel Matilda and sought refuge with Mary's sister and brother-in-law, Eliza and Alexander Smart Martin. The Martins had travelled to New Zealand with the Greniers but had left Kororareka towards the end of 1842.
Intent on giving his family a new beginning, Thomas disposed of the properties he had bought in Auckland's first land sale in April 1841 and returned to Brisbane before the year was out. In the six months that elapsed before his wife and children could join him, he built a modest dwelling on the Grey Street property. To support himself he opened a butcher shop in Queen Street on the site of what is presently Hungry Jack's, not far from where Patrick Mayne operated a similar business. Given his childhood background, his choice of occupation and his preference for self-employment were hardly surprising.
Thomas Grenier, the son of Thomas and Martha (née Hamper) Grinyer, was born into a family of shopkeepers in Brighton, Sussex, on 4 July 1808. That he was independent in outlook and adventurous in spirit is evident in the fact that he crossed the Atlantic while still in his teens and backpacked, as we would say today, travelling by riverboats, stagecoaches and on foot for 18 months around the eastern part of the United States of America. He celebrated his 21st birthday there on Independence Day 1829.
On his return to Brighton, Thomas resumed work in the family grocery business; and on 15 November 1832 he married Portsmouth-born Mary Pannell, the eldest child of George and Jemima (née Clark) Pannell, in the Church of St Nicholas. By a strange quirk of fate, Thomas and Mary's first child, Ann, died on 10 September 1834—the very day on which their second daughter, Mary Ann, was born. Two other children, Eliza and Sarah, were added to the family before Thomas and Mary decided to emigrate to Melbourne, Australia.
Having said farewell to their circle of friends and relatives, they departed from St Katharine's Dock in London on 1 October 1838 as steerage passengers on board the 658-ton barque Perfect under the command of Captain William Snell. Four months later on the evening of Thursday, 31 January 1839 they entered Sydney Harbour. Thomas used their stopover to good advantage by purchasing at an auction in Sydney's Market Building an inner-city Melbourne property. He sold it at a very considerable profit soon after the family's arrival there two months later.
Believing that their prospects would be better in New Zealand, the Greniers, by then seasoned travellers, set sail on the 350-ton Earl Stanhope in late February 1840. The 1,700-mile journey must have been especially trying for Mary who, still only 26 years of age and pregnant with her fifth child, gave birth to Thomas Jr on 31 March just as the ship docked at Port Nicholson (Wellington). A few weeks later the family settled in the North Island in Kororareka (present day Russell) where Thomas worked as a carpenter and erected two houses—one for his family and one for the above-mentioned Martins.
Space prevents a detailed account of the life that Thomas and Mary Grenier lived in the four years leading to the sacking of the town by the Maoris. We need only add that they were blessed with two more sons, Volney and George Alexander, both of whom, together with their sister Eliza and their parents, would one day be laid to rest in God's Acre at Cooper's Plains.
A terrifying storm and the constant care of her six young children ensured that Mary Grenier's return voyage across the Tasman, this time on the small two-masted schooner Harlequin, was even more eventful than her first. However, having made the last leg of the journey safely from Sydney on the Sovereign, the children and their mother were reunited with Thomas on 21 September 1845 and settled into their newly-erected house. A new chapter in the family story was about to begin.
Brisbane was hardly a thriving metropolis at that time. The population statistics, based on the census of 2 May 1846, indicate that there were only 614 non-indigenous inhabitants in North Brisbane (405 males and 209 females) and 346 in South Brisbane (209 males and 137 females). Indeed, when Thomas Grenier's name first appeared on 'the electoral list for the Town of Brisbane, District of Moreton Bay, County of Stanley', he was one of a mere 75 eligible to vote.
Writing in his diary about two months after the Greniers' arrival, Thomas Dowse, the former convict who became Brisbane's second Town Clerk and a close family friend, observed: 'Brisbane is the dullest of all dull settlements at this part of the year. Innkeepers, Storekeepers are about as well off as Hutkeepers'. Whether or not Thomas shared these views, he continued to conduct his butcher's shop in Queen Street until May 1848 when George Poole took over the premises as a 'chemist, druggist and family grocer'.
In September of that year he successfully applied for the licence of the Brisbane Hotel which had been built by the astute businessman Evan Mackenzie near the south-western corner of the intersection of Russell and Grey Streets. Thomas was the third licensee of this establishment, having succeeded Robert Rowland and Jacob Goode. The latter is remembered as the man who, in a fit of frustration, pushed the ferryman John William Christie overboard because he delayed a crossing of the Brisbane River in the hope of obtaining more passengers.
The hotel became popularly known as 'Grenier's Inn'—a designation which endured long after Thomas had relinquished the licence in 1858 in favour of his daughter-in-law's widowed mother, Mary Greenwood. An anonymous author wrote of the hotel in these terms in a ballad entitled 'Way back in Fifty-Nine':
But we have prophets here who dream
That ships with steam and sails
Will come right up to Grenier's Inn,
In Brisbane, New South Wales.
A 'social centre and a Brisbane landmark in the [18]40s and 50s', the hotel was a 'favourite house of call for squatters' from the Logan, the Downs, the Dawson and the Burnett who, as Thomas's obituarist observes, 'were alike in appreciating the comfortable and lively old English style in which … Mrs. Grenier and her three attractive daughters conducted the hostelry'. It was one of the preferred 'watering holes' of the well-to-do Nehemiah Bartley who, looking back in 1892, describes it in his book Opals and Agates as a 'well-kept and highly patronized hotel'. 'George Harris and I often strolled up to Grenier's in the evening,' he writes, 'for there was more "life" there than at any other hotel in town'.
Capturing something of the egalitarian spirit and bonhomie that prevailed in Grenier's Inn in those days, Bartley also writes of a practical joke played on Captain Thomas Collins of Telemon Station, a regular patron of the hotel.
Fun there was, in plenty, in those days … All innocent fun; but there was real mischief at work when some unknown fiend packed all the spoons, knives, and forks, from Mrs. Grenier's public breakfast table, into old Captain Collins's valise, already half full of clean shirts, just before that unconscious gentleman started home to the Logan. Mrs. Grenier thought the blacks had stolen them, and had their camp searched in vain. The mystery was solved when, a fortnight later, the captain came to town again, and threw the articles on to the verandah, with some of that figurative language, peculiar to elderly sea captains. The real culprit was never discovered, or nobody knows what might have happened. But, old Collins stayed there, the same as of yore, for it was all taken in good part in those days, and there was a feeling of old friendship between landlord and guest, then, which is all out of date now.
Managing a hotel in mid-19th century Brisbane was no easy task in an area where the unsealed streets were often in appalling condition owing to poor drainage and the daily traffic of horses and cattle. Good stabling and suitable feed had to be on hand for the patrons' highly prized horses. Clean linen, laundered in wood-fired coppers, had to be provided for beds and tables. Hearty dinners had to be prepared on wood stoves for weary travellers and served in poorly lit dining rooms. Adding to the publican's many preoccupations (as Thomas sometimes found to his cost) were laws which, among many other regulations, required that patrons should be admitted to the hotel only through the doorway fronting the public street, that forbade music and dancing and the playing of card games on the premises and that prohibited the serving of alcohol to aborigines even when as stockmen they were occasionally clients of the hotel.
But these heavy demands did not stop Thomas from taking an active part in the social, civic and recreational life of early Brisbane. His name appears on several petitions or memorials in support of initiatives as diverse as Separation from New South Wales, the establishment of the Moreton Bay Hospital where the Supreme Court building stands today, the development of water resources on a government reserve at South Brisbane, the provision of a post office on the southern side of the River, the retention of a military presence in the colony to assist in maintaining law and order, and the conduct of 'a survey of the River Brisbane with a view to its being deepened'.
A perusal of the subscription lists published in the Moreton Bay Courier will reveal that he was a frequent and fairly generous contributor to worthy causes at home and abroad. Ensuring that such support would extend even beyond his demise, he included among the beneficiaries of his will three organisations that had been recipients of his practical assistance during his lifetime—the South Brisbane School of Arts (of which he had been the treasurer and the vice-president), the Acclimatisation Society at Bowen Park and, interestingly for a publican, the temperance body known as the Good Templars Society.
In the decade leading to Separation there were several additions to the family—Henry and Franklin1, both of whom died as infants, Henry John, Franklin2 and William Leichhardt. Two other sons, both of whom had been born in New Zealand, died during this period—Thomas Jr who was buried in the Church of England section of the old Paddington Cemetery and Volney of whom more below.
The establishment of the Brisbane Municipal Council on 13 October 1859 enabled some of the young colony's influential businessmen to take a more active part in the development of the town. Thomas Grenier stood unsuccessfully for election in February 1865. Undaunted by this loss, he tried again two years later and became one of the two representatives of the South Ward. His first term of office was served under Albert John Hockings and his second under John Hardgrave. Council minutes reveal that he served on various committees and that, mindful of the recurring complaints of his constituents, he took a special interest in improving the drainage and roads in South Brisbane. During those years the versatile Thomas Dowse, a former convict, was the Town Clerk, having succeeded William Martin Boyce whose grandson WFR (Frank) Boyce, married Thomas Grenier's grand-daughter Minnie Kate Jessie Benn.
After the Greniers had settled permanently in Australia, Thomas continued to buy land. There was probably a speculative element in some at least of these purchases; but it is more likely that, looking to the future, his prime concern was to provide for the needs of his children. Between March 1853 and June 1868 he often attended auctions of government land and bought property in what are presently the suburbs of South Brisbane, West End, Woolloongabba, Highgate Hill, Balmoral, East Brisbane, Sandgate, Shorncliffe, Yeerongpilly and Archerfield, and further afield in Toowoomba (Drayton) and Ipswich. He also leased extensive tracts of land for pastoral purposes.
The most significant of these purchases was made on 31 May 1855 at an auction in the Brisbane Court House. The fact that Thomas paid £3 per acre for the 640-acre Portion 18 (Yeerongpilly), for which the upset price was only £1 per acre, indicates that the bidding must have been very keen. Even though he was still a South Brisbane publican at this time, Thomas and his sons with the assistance of employed labour set about developing this area (presently occupying much of Archerfield Airport) as a grazing property and dairy farm. In the months leading up to Separation he expanded these activities to include the breeding of quality horses and mares.
In 1861, feeling the need for an additional source of income, Thomas decided to entrust the management of the family farm to his eldest son George Alexander and to open a grocery, wine and spirit store in South Brisbane next door to the Brisbane Hotel. Apparently, his financial situation continued to leave something to be desired as he made a serious effort to dispose of his large Cooper's Plains property. However, despite a series of advertisements in the Brisbane Courier in 1862, he failed to secure a suitable buyer and the farm remained in his possession until his death in 1877. By then it had been subdivided by the licensed surveyor William Cowley into six blocks, five of which Thomas willed to his sons George Alexander, William Leichhardt and Franklin Grenier.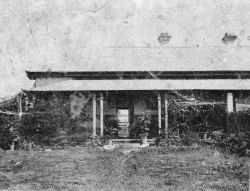 He left subdivision 6, a small area of 3 roods, 'in trust for the purpose of a Burying Ground for members of [his] own family or any other persons they may think proper'. He also gave and bequeathed to the trustees of his last will and testament 'the sum of fifty pounds in trust for the purpose of making or keeping in repair the Gates and Fences to the said Burying Ground'. The first burial at this site had taken place on 27 October 1859 when Thomas and Mary's 16-year-old son Volney was laid to rest. Between that day and 16 July 1980 when Olive Grenier, the youngest of their 41 grandchildren, was buried there, the mortal remains of about 180 people were committed to the earth in what has become popularly known as God's Acre. Each year since 1991 on the last Sunday of June descendants of those buried there have assembled mid-morning in the cemetery grounds to remember the dead, to share family stories and to enjoy a picnic together. In conjunction with the observance of the 150th anniversary of Queensland's statehood in 2009, celebrations are currently being planned to mark the sesquicentenary of the first burial.
Historians are not much given to assessing the character and temperament of the people they write about, preferring to let the recorded facts of their lives speak for themselves. That will not deter the present writer from referring to a few events in Thomas Grenier's life which are revelatory of the man. That he was protective of his children is evident in the impulsive action he took in May 1850 when his daughter Eliza was severely bitten by an unrestrained dog belonging to a rival publican John McCabe. Having derived no satisfaction from his altercation with the dog's owner, Thomas shot and killed the animal. Both parties to the dispute presented their versions of the facts in well-written paid-for advertisements in the Moreton Bay Courier.
The same concern extended to his employees at the hotel, among whom were represented English, Irish, German, Chinese and aboriginal workers. On one occasion, wishing to see justice done, he caused a police constable to be arraigned before the police magistrate and subsequently dismissed from the force for assaulting Billy Harris, an aborigine in his employ. Hospital records indicate that he also met the hospital expenses of needy people, some of whom probably worked for him.
Thomas Grenier's name has been assigned to four streets, a lane and a park in Brisbane and to a street in Toowoomba. There are also four streets in close proximity in West End where he owned several properties which have clear associations with his family. His principal memorial, however, is the tribute his children had inscribed on their parents' gravestone which holds pride of place in God's Acre:
In Loving Memory Thomas Grenier Who departed this life October 7th, 1877, aged 69 years.
Also his beloved wife Mary, March 2nd, 1876, aged 62 years.
This table is erected by their children.
The deceased were amongst the earliest settlers of the colony and were highly esteemed
by many of the old residents of Brisbane,
as well as by the distinguished pioneers who took an active part in the development of Queensland.
In their domestic relations as parents, they commanded the affections of their children,
and as citizens the respect of all who came in contact with them.
After journeying together through life for forty years, they now rest in peace side by side.
Mary Grenier' burial, witnessed by two family friends, Henry Lucock JP and William Huet, took place on 3 March 1876, the day after her death. Thomas himself acted as the undertaker.
On 7 October 1877 Thomas Grenier died and was laid to rest beside his wife. His son Henry John acted as undertaker and the Reverend James Samuel Hassall of the Church of England performed the graveside service in the presence on Henry Lucock JP and William Huet (witnesses), both of Oxley. The latter gentleman was also one of the two witnesses of Thomas's last will and testament.
Volney Grenier was born in Kororareka (now Russell) on the Bay of Islands, New Zealand, on 7 July 1843 and was christened in the local Christ Church on 3 August 1843 by the Reverend Robert Burrows. It was there that the same pioneering Church of England clergyman had earlier baptised Volney's brothers, Thomas Jr and George Alexander, and his cousin Sarah Eliza Martin.
The origin of his unusual given name, which appears nowhere else in the family tree prior to 1843, has yet to be established. Thomas Grenier may have come across it when travelling in the eastern part of the United States in 1828-29. In Oswego County in New York State, at the south-eastern end of Lake Ontario, there is a town called Volney, after which (as records indicate) a number of local people have been named.
Volney died on his parents' farm at Cooper's Plains on 26 October 1859. A long-standing Grenier tradition, commonly accepted by historians but unsupported by any documentation known to the writer, is that he succumbed after sustaining serious injuries in a fall from a horse on the family property. Volney's death certificate (No. 390—registered by the Reverend Robert Creyke) states that he died from chronic peritonitis, endured for a period of 15 days. It further indicates that his birthplace was the Bay of Islands, New Zealand, and that he had lived for 'fourteen years in the Colony of New South Wales'. His father's occupation is given as 'farmer'.
Volney was buried in God's Acre, Cooper's Plains, on the day after his death—the first of the family to be interred there. Joseph Wonderley, who married Volney's sister Sarah Grenier in May 1860, was one of the two official witnesses to the burial. The signature of the other is not easy to decipher; but it seems likely that he was Alexander Fraser, a blacksmith and farrier whose business was a stone's throw from Grenier's Hotel in South Brisbane.