The Holzberger story in Australia begins with an initiative of James Manning, one of the directors of the Twofold Bay Pastoral Association. Mindful of the skills of German farmers as cheese makers, vignerons and pig farmers, he arranged for German immigrants to be brought directly from Hamburg to Twofold Bay on the South Coast of New South Wales. They travelled on the 498-ton barque Caesar (Captain John Sturge) on its only voyage to Australia and reached Twofold Bay on 10 March 1855, having left Hamburg on 15 November 1854; but, because there had been a cholera outbreak which carried off 66 persons very early in the journey and because there were two cases of sickness on board, the 63 passengers disembarking there were not permitted to come ashore for about a week. After they landed, this 'fine set of people' marched through the town to the tune of 'God Save the Queen'. The remaining 184 immigrants proceeded to Sydney where the Caesar docked on 26 March.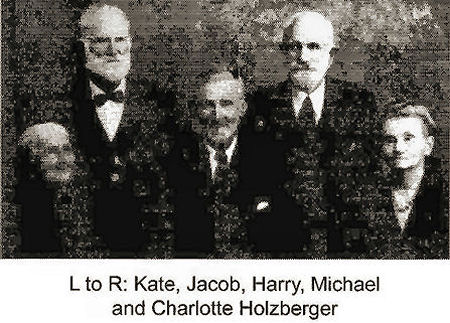 The families of two brothers, Michael Holzberger and John Holzberger, who hailed from Kembach, were on board the Caesar. Their contingent, listed in shipping records by the English equivalents of their German names, is as follows: (i) Michael (47, vinedresser), Barbara (32), Michael (10), Catherine (8, known as Kate), Andrew (5) and John (2); (ii) John (42, vinedresser), Regina (43), Elizabeth (17), Jacob (14), Phillip (7), and Maria (2). Two of these travellers died during the voyage¾Regina, the wife of John Holzberger; and Maria, their daughter.
Barbara Hörner (bap. 13 October 1822), the daughter of Andrew (a weaver) and Elizabeth Barbara (née Rooss) Hörner, married Michael Holzberger, the son of George Leonard (a farmer) and Anna Dorothea (née Tag) Holzberger, in Kembach on 15 February 1844. In addition to those listed above, the following children were born to them after their arrival in Australia: Jacob (b. 19 April 1855), Henry (b. about 1858), Charlotte (b. 20 January 1861), Minnie (b. 20 August 1865; d. 1 May 1866). According to both parents' death certificates, there was also a son who died before Michael's death in 1881.
Barbara's husband, Michael Holzberger (b. 28 September 1808), died at Rocky Water Holes on 31 July 1881 and was laid to rest on the following day in the Cooper's Plains Cemetery. Those present in an official capacity at the interment were: J Hislop (undertaker), the Reverend Carl Friedrich Franz Alexander Schirmeister of the Lutheran Church, and Michael and Jacob Holzberger (witnesses).
Barbara Holzberger passed away at Rocklea on 24 March 1899 at the age of 76 years and was buried in 'Greniers Cemetery' on the following day. The Reverend Ernst Otto Meier of the Lutheran Church, conducted the service in the presence of official witnesses A Laver and T Dunn. Two children, a son and a daughter, predeceased her.