Niels Peter Jensen was born in the Mothers Hospital, Toowoomba, on 29 June 1932. His father, Lars Peter Jensen, who hailed from Aalborg in Denmark was a fireman in the railways. His mother, Adeline, the daughter of William Henry and Ellen (née Haddock) Chadburne, was born in Wallangarra. At that time of Peter's birth, Lars and Adeline, who were married in Brisbane on 30 April 1918, had six other children: Douglas Linten, Norman Wilton, Thomine Ellen, Constance Edna, Kenneth Allan and Bernard Allison. Another son Roy was born later.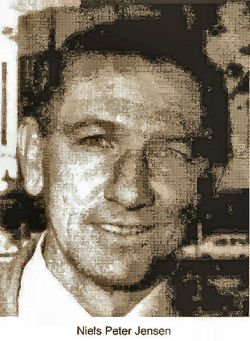 On 3 January 1951 Peter Jensen married Joy Betty Foster, daughter of Robert Thurston and Ellen Jessie (née Boyland) Foster, in St Philip's Anglican Church, Thompson Estate, South Brisbane.
The following account of Peter's life has been contributed by his wife:
Peter was born and raised in Toowoomba with seven siblings, six older than himself and a younger brother Roy who passed away in his teens, leaving Peter the youngest in the family. Peter came to Brisbane to take up employment as a technician-in-training for the P.M.G. when he was only fifteen years old. As his hobby at that time was pushbike racing, he joined the Balmoral Bike Club and became Queensland Junior Champion. He continued to race even after his marriage to Joy in 1951. He used to train by riding every day from Cooper's Plains to Eagle Farm and, after working and studying all day, by riding back home.
Peter married young and bought a block of land in Cooper's Plains where he built a small house for his wife Joy and himself. Eventually they were blessed with the birth of their first son Leslie, followed fifteen months later with their second son Larry. At this time they decided to move on to acreage and bought a property on Beaudesert Road in Calamvale where their third son David was born. The property had a half-completed house on it; so Peter added the roof and bit by bit, as money became available, finished it. As there were three acres of land, the boys had the freedom to play at all the games they desired and later to learn to drive on it. Peter was a very good father; and the family grew up in a happy and close relationship.
Times were changing and Peter was offered a promotion as a supervising technician at Tamborine Mountain where he spent the next nine years looking after several exchanges and the first TV link. While there, he received an award from the Director of Posts and Telegraphs, Mr EF Lane, in recognition of the suggestion he made for improving telephone testing equipment. After all the years of travelling between home and Tamborine, he was pleased when he was offered a position back in Brisbane as a Technical Adviser in the engineering department of head office.
The boys were all working now and we decided to sell the acreage and buy a home at Sunnybank, as this was much more convenient for everyone's work. Later two of the boys married and Peter spent a lot of time helping them with their own homes as well as doing an upgrade on our home. Peter remained as a Technical Adviser until he retired after 43 years of service in 1992. He enjoyed only six years of retirement before he passed away on 13 August 1998 in the Mater Private Hospital, South Brisbane.
Peter Jensen, 'late of Sunnybank, formerly of Calamvale and Toowoomba', was cremated at the Mount Thompson Crematorium on the afternoon of 18 August 1998. His ashes were deposited in the Boyland plot at God's Acre.