William Robson Johnson, the son of William Shields and Ann Isabella (née Robson) Johnson, was born on 3 December 1850 in South Shields, Durham, England, and died in Brisbane on 19 July 1938. He married Helen Wallace Bains (b. South Shileds, Durham, 12 July 1852), the daughter of Robert Watson and Mary (née Robertson) Bains, in Tynemouth, Northumberland on 18 April 1874. He and Helen and their infant son William Robson Jr emigrated to Australia as assisted passengers on the 1293-ton Orient Line vessel Dilharree (Captain R McNeilly). The ship left London on 12 May 1876 and anchored in the Brisbane Roadstead on 12 August 1876. With the other emigrants—'evidently a very suitable lot of colonists'—they were brought up the River by the Settler and landed at Queen's Wharf on 14 August at 3 p.m.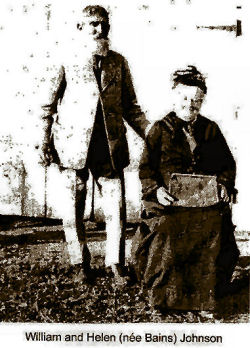 In addition to William Robson Jr (b. June quarter 1875), their children (all born in Queensland) were: John (b. 14 March 1878), James Bains (b. 7 July 1880), Percy Augustus (b. 7 August 1882), Helen (b. 23 May 1885; d. 24 May 1885), Robert Watson Bains (b. 21 March 1886), Annie Olive (b. 14 August 1889), and Clement Robson (b. 25 March 1894).
Of special interest to us among these children is Percy Augustus Johnson, a plumber and tinsmith, who was born in Yeerongpilly on 7 August 1882. He married Annie Elizabeth Silcock, the daughter of William and Annie Elizabeth (née Bunn) Silcock, in Brisbane on 15 October 1910. They became the parents of Lillian Edna Wallace (b. 10 June 1911; m. Vernon Franz Jacobi 22 December 1934), William Robson (b. 8 January 1914), Percy Augustus Jr (b. 7 November 1916), Hazel Enid (b. about 1920), Dorothy Annie Ellen (b. about 1922) and Millicent Joyce (b. about 1926, known as Joyce).
Percy Augustus Johnson Sr died on 17 July 1941. His wife Annie was living in Elmes Street, Rocklea, when she passed away on 9 January 1946. Both were laid to rest in the monumental section of the Mount Gravatt Cemetery (3A 1 72).
After a short life of 'two years, seven months and seven days' according to an extract from his death certificate, Percy Augustus Johnson Jr passed away on 14 June 1919. His mortal remains were interred in God's Acre on the following day. At the time of his death the family lived in Beaudesert Road, Coopers Plains. Assisting at the interment were: Tom Foley (undertaker), the Reverend Frederick North of the Congregational Church, and James B Johnson (the boy's uncle) and WA Wright who acted as witnesses.
Our account would be incomplete without some reference to another Johnson family. Euphemia Bains, the sister of the above-mentioned Helen Wallace Bains, married Joseph Johnson (b. 10 December 1830), the son of Clark and Catherine (née Dee) Johnson, on 4 March 1861. Euphemia and Joseph travelled to Brisbane on the same voyage of the Dilharree as William Robson and Helen.