Thomas King was born on 1 March 1818 in Hatherleigh, Devonshire, and christened there in the parish church of St John the Baptist on 7 February 1819. The son of John (a carpenter) and Mary (née Hammet) King, he married Ann Gribble, the daughter of Thomas Gribble (a blacksmith), on 21 July 1839 in St Mary's Arches Church (or St David's?), Exeter. Both Thomas and Ann were then living in Exe Lane, Exeter.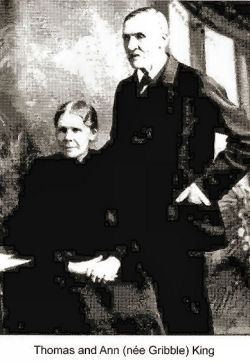 At the time of the 1851 English census in the parish of Tor Mohun, Exeter, the following details concerning the King family were recorded: Thomas, labourer, 32, born Hatherleigh; Ann (wife) 35, born Crediton; Mary Ann (daughter), 11, scholar, born Exeter; Elizabeth (daughter) 7, scholar, born Winkleigh.
Thomas and Ann travelled to Australia with their daughter Elizabeth on the 873-ton Jessie Munn (Captain John Kerr) which left Plymouth on 26 October 1861 and dropped anchor in Moreton Bay on the evening of 28 January 1862. The passengers were brought up the River to Kangaroo Point two days later on the Breadalbane. Shipping records give the ages of the Kings as 41, 43 and 17 respectively and indicate that Thomas (a labourer) and Ann were then living in Wales and that Elizabeth (a domestic) resided in England. There was a deal of trouble after the arrival of the ship owing to the insubordination of some of the crew and the absconding of the offenders. The elder daughter Mary Ann, who married Henry Weeks in Cockington, Devonshire, in 1861, came to Australia with her family in 1873. Both she and Henry and two of their children, Henry John Thomas Weeks and Richard James Robert Weeks, are buried in God's Acre (cf. the material on the Weeks family later in these pages).
The Kings homesteaded a 32-acre property on Ipswich Road with a frontage to Oxley Creek and other properties in the Blunder area in Oxley where a number of God's Acre families lived. King Avenue, Durack, is named for this family.
Ann King passed away aged 66 on 5 June 1880. She was laid to rest in 'Grenier's Cemetery, Cooper's Plains' on the following day in a service conducted by the Reverend James Samuel Hassall. Her son-in-law Job Allen acted as undertaker and the role of witness was exercised by John Nolan and G Bowler.
Concerning Thomas King a family member has this to say: 'Thomas King lost his eyesight by 1888 and later lived with his daughter Elizabeth Allen in Bannerman Street, Oxley, until his death. According to Official Records, Thomas and Ann are buried in God's Acre, although his death date is still unknown to his descendants'. Even if one were to query what 'official records' are referred to, it would be most unlikely for Thomas to have been buried anywhere else than with his wife in the place where other family members also lie at rest.