The paternal grandparents of Herbert Ernest Marshall, George (aged 31) and Emma (35), travelled from England to Australia. on the 1073-ton City of Agra (Captain Thomas Young). Accompanying them on this long voyage were their two daughters, Maria (1) and Harriett (2). The ship set sail from London with 285 adult immigrants on 14 April 1876 and, 'after a splendid passage', arrived in Hervey's Bay (near Maryborough) on 14 July 1876. About 30 passengers remained in Maryborough; but the rest were forwarded to Brisbane by the steamers Edina and Queensland. Sadly, Maria Marshall was not among them; for she died en route on 4 June 1876 within a fortnight of the ship's passing the Cape of Good Hope.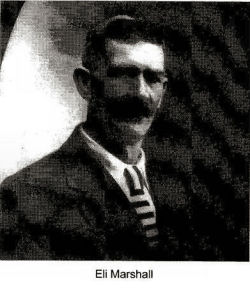 After their arrival in Brisbane, George and Emma Marshall became the parents of: Roger (b. 29 July 1877; d. 9 February 1945), Ernest (b. 9 September 1879; m. Mary Williams 13 June 1900; d. 14 April 1961), Enoch (b. 26 January 1881; m. Amelia Margaret Johansen 7 April 1912; d. 8 January 1914), Eli (known as Gerry, b. 13 August 1882; d. 18 April 1936), Charlotte (b. 2 July 1884; m. William Watt 22 February 1905; bur. 20 January 1970).
Emma Marshall, the daughter of David and Ann (née Cortham) Greaves (or Gleaves), died on 2 November 1907 and was buried on the following day in the South Brisbane Cemetery (6 44). George Marshall, the son of John and Mary (née Hoyllen?) Marshall, passed away on 31 March 1892.
Of all the children of George and Emma the one of most interest to us here is Eli Marshall. Born in Dalby on 14 August 1882, he married Emma May Moffatt, the daughter of Francis John and Catherine Hinchcliffe (née Lewis) Moffatt, on 13 February 1904. Their children were: Herbert Ernest (b. 19 June 1904; d. 26 November 1905), Francis (b. 26 April 1906, known as Frank), Charles Eli (b. 28 April 1908) and Ronald George (b. 10 September 1910).
Herbert Ernest Marshall, the eldest of these children, died in Oxley on 26 November 1905. His remains were interred in God's Acre, Cooper's Plains, on the following day. The Reverend John Stewart Pollock of the Presbyterian Church conducted the service at the graveside. It was certified by GL Dunlop and officially witnessed by C Woods and E Morrison.
After the untimely death of Emma May on 23 April 1915 and her burial in the Toowong Cemetery (13 16 16) on the following day, Eli married Lottie Ottaway on 16 August 1916. Born at 338 Fulham Road, Kensington, London, on 8 January 1897, she was the daughter of Arthur John Flack (later Ottaway), the son of John (a valet) and Eliza Hannah (née Cook) Flack, and Emily Louisa Lissenden, the daughter of Thomas (a labourer) and Naomi (née Samson or Sampson) Lissenden. For some reason unknown to this researcher, Lottie's father adopted the surname Ottaway. At the time of his marriage on 10 January 1887 in St Philip's Church, Maidstone, Kent, he was a grocer and his wife was a domestic servant.
Arthur John and Emily Louisa and 9 of their 10 surviving children travelled to Australia prior to 1914 and took up residence in Station Road, Oxley.
Their son, John Arthur (a porter, known as Jack), his wife Blanche Alice (née Gardner; b. 12 May 1885), and their two children—Blanche Emily (b. reg. June quarter 1906) and Louisa Grace (b. reg. September quarter 1907)—followed them. Leaving their home at 91 Lots Rd, Chelsea, London, they boarded the Orient Steam Navigation Company's 12,129-ton steamship Osterley (Captain Walter John Jenks RNR) on 8 May 1914 and arrived in Brisbane on 22 June 1914. Soon after this voyage the Osterley became a troopship and hospital ship in World War One.
Arthur John Ottaway Sr died on 15 February 1916. On 6 December 1924 Emily Louisa married again, her new husband being Charles Lock. She passed away on 20 March 1940 and was laid to rest in the Sherwood Church of England Cemetery on the following day in the same grave as her first husband.
The children of Eli and Lottie Marshall were: Blanche Lillian (b. 28 January 1917; m. James Henry Sheffield 3 October 1936 in St Mary's Church of England, Kangaroo Point; d. 4 February 2001), Arthur Eli (known as Bob, b. 15 May 1918; m. Marion Georgia (Marie) Brown 12 December 1942; d. 3 July 1985), Ethel Hilda (known as Hilda, b. 14 September 1922; m. Clyde Lindsay Wesener 22 Mar 1943 in St Mary's, Kangaroo Point). There was also one unnamed stillborn child.
Eli Marshall 'of Ardoyne Road, Oxley', passed away in his aunt Harriett's new house on 18 April 1936 and was laid to rest two days later in the South Brisbane Cemetery (8 25C).
Lottie remarried in 1943, this time to William David (Bill) Coulter (b. 6 January 1892), the son of Richard and Georgina Sarah Louisa (née Addison) Coulter. For some years she and Bill lived in Coorparoo; but at the time of Lottie's death on Christmas Eve 1971 she and Bill were resident in Southport. She was survived by her husband and her three children and their families. Lottie's cremation service took place at the Mount Thompson Crematorium on the morning of Thursday, 30 December 1971.