According to her death certificate, Sarah Louisa Curran, the daughter of William and Sarah (née Cottingham) Curran, a land steward, was born in Cavan, Ireland about 1842 (or, as otherwise stated in her obituary below, in Roscommon). As a young single woman of 22, she emigrated to Australia on the 1042-ton Earl Russell (Captain Daniel Orr Bolt RNR). Having arrived at Plymouth from London on 14 April 1864, the ship left for Queensland on 23 April and reached Moreton Bay on 10 or 11 August 1864 with 365 immigrants on board. As was often the case, there was a deal of sickness during the voyage.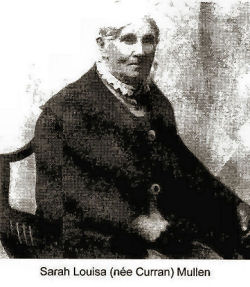 Sarah married Charles Mullen, the son of Alexander Mullen (a farmer) and his wife Ann (née Cottingham) Mullen. Given the common maiden name of their mothers and the fact that Charles also hailed from Cavan, one might ask whether Sarah and Charles were cousins. The wedding took place in St John's Cathedral on 8 September 1864, a date that would indicate that Sarah's engagement to Charles had already taken place before her departure for Australia. The celebrant was the Reverend John William Hoare and the witnesses were John Mullen, presumably Charles's brother (see later) and Margaret Forrester.
Charles Mullen, who was a farmer at Oxley Creek for many years, died in the Brisbane Hospital on 6 September 1907 aged 66 and was buried in the Toowong Cemetery on the following afternoon (5 60 17). The funeral actually left from the hospital. The undertaker was Walter S Barrett of Sillett and Barrett Undertakers; the presiding minister was the Reverend Jarvis B Johnson of the Joyful News Mission; and the witnesses to the burial were John Melville and Thomas W Brown.
Sarah Mullen died in the Brisbane Hospital on 17 February 1920 at the age of 81 years. Her funeral service on the following afternoon at the Cooper's Plains Cemetery was conducted by the Reverend A Higgins of the Church of England in the presence of W Horn and J Horn Sr, official witnesses. She was survived by seven of her children: Mary Ann (b. 18 April 1865; d. 18 August 1951), Emma (b. 14 August 1867), Eva (b. 28 July 1869), John Alexander (b. 6 February 1871; d. 10 March 1921), William (b. 21 April 1873; d. 28 August 1953), Elizabeth Jane (b. 6 February 1875; d. 13 November 1956), and Sophia (b. 20 March 1877; d. 17 February 1953). Two sons predeceased her¾George William (b. 10 July 1879; d. 22 October 1896) and Frederick Henry (b. 13 November 1883; d. 4 March 1884; bur. St Matthew's, Sherwood).
The following obituary of Sarah Mullen appeared in a Brisbane newspaper:
Mrs Mullin [sic], one of the pioneer women who helped to make the history of the State, passed away at the Brisbane General Hospital on February 17, at the age of 81 years and three months. The deceased lady was born at Rockingham Castle of Boyne [Boyle], County Roscommon, Ireland in 1838, her father being William Curran, land steward to Lord Lorton, for over 50 years. Miss Curran came to Brisbane on board the sailing vessel "Earl Russell" landing on August 17, 1864, and was married in St John's Cathedral in September. The whole of her 56 years in Queensland were spent in her home in the Oxley district. Here she reared a family of four sons and five daughters. Since the death of her husband she had lived with her son, Mr J. A. Mullin, in the old home [Rosedale Farm, Rocklea], paying occasional visits to her remaining children and their families. On her arrival in Brisbane, stumps stood in Queen Street, and her brother was one of the first engineers engaged in cutting and levelling of the principal street of the metropolis. He afterwards became the first railway station-master at Grandchester. Amongst other well-known pioneers on board the "Earl Russell" were the late Mr James Chapman, the late Mrs Tom Finney (then Miss Sidney Jackson), Mr and Mrs H. Robinson and two children, their son Mr W. J. Robinson, being recently postmaster in Woolloongabba. The mortal remains of the late Mrs Mullin were laid to rest in Cooper's Plains cemetery, the chief mourners including her children, grandchildren, and one great-grandchild. A large number of friends of the family attended, and numerous floral tributes were received.
It is worth noting that three of Charles Mullen's brothers—James (24), John (22) and Thomas (20)—and his mother Ann also emigrated to Australia. Having survived 'a violent hurricane which lasted nearly three days' en route, they arrived at the Brisbane Roadside on the afternoon of 26 April 1863 on the 566-ton Warren Hastings (Captain Hedley) and were brought up from the Bay by the Star of Australia. The barque had set sail from Southampton on 14 or 15 January with 250 government (remittance scheme) immigrants and 350 tons of general merchandise on board. During the voyage there was one death, three births and a marriage.
John Mullen married Elizabeth Margaret Best on 12 August 1865. They became the parents of John Thomas (b. 21 August 1866; d. 1 November 1924), Alexander (b. 25 May 1868; d. 8 May 1903), and James (b. 4 August 1870). Sadly, John died in the 'Bowen Bridge Hospital' (now the Royal Brisbane Hospital) on 17 July 1870, before the birth of his youngest son. It was from there that his funeral took place on the following afternoon under the direction of the Queen Street undertaker Joshua Ebenston.
Thomas Mullen, who married Rebecca Fannon on 14 June 1867, passed away aged 66 on 22 January 1909 and was buried in the Sherwood Anglican Cemetery on the following day. Rebecca's remains were laid to rest beside those of her husband after her death on 17 March 1917 at the age of 70. Four of their eight daughters, their son Thomas and his wife Susan and two of their sons were also interred there.
James Mullen died on 24 May 1889.
Ann Mullen (née Cottingham), the matriarch of the family, passed away on 6 November 1892 at an advanced age and was also laid to rest in the family plot in the Sherwood Cemetery.
John Alexander Mullen, the son of Charles and Sarah Louisa (née Curran) Mullen, was born on 6 February 1871. A farmer like his father, he never married. He died in the Brisbane Hospital on 10 March 1921, a few weeks after his mother's death, and was buried in the 'Cooper's Plains Private Cemetery' two days later in the presence of D Cremin (undertaker), the Reverend FR Barratt of the Church of England and Theodorus Otterspoor (witness). His funeral notice states that he lived at Rosedale, Rocklea.
George William Mullen
, a younger brother of John Alexander, was born on 10 July 1879. He was working as a farmer when he succumbed to pleurisy at Rocklea on 22 October 1896 aged 17 years. Present in an official capacity at his interment in 'Grenier's Cemetery' on the following day were: William Francis Lyon (undertaker), the Reverend James Samuel Hassall of the Church of England, and A Laver and M Holzberger (witnesses). The latter witness is probably Michael Holzberger Jr (d. 16 July 1931) whose parents, Michael and Barbara, were also buried in God's Acre.