William Malcolm Orr Murray, the son of James and Ann (née McMoran) Murray, was born in 1831 at East Kilbride—a large town near Glasgow in South Lanarkshire, Scotland. On 8 April 1853 he married Sarah Scott, the daughter of Robert (a soldier) and Ellen (née Laurie) Scott, at Newtownards, a large town on the Ards Peninsula about 16 km. east of Belfast in County Down, Ireland. The witnesses to the marriage were Jane Murray and Robert Doggart. Sarah hailed from nearby Ballereen. According to the obituary of their son Robert Tait Murray, William was a British Army sergeant before his marriage.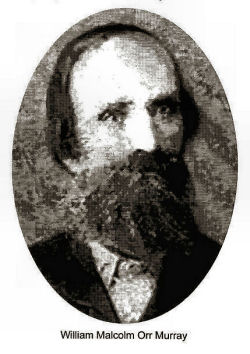 Before their decision to emigrate to Australia William and Sarah became the parents of at least six children: Ann Jane (b. Newtownards 30 June 1855; d. Childers 7 November 1936), Helen (b. Glasgow 29 March 1857; d. Glasgow 6 April 1857), James (b. Sandgate, Kent, May 1858; d. Hodgson, near Roma, 7 June 1909), Sarah (b. Sandgate, Kent, May 1858; d. 6 February 1931), Agnes Black (b. Bridgeton, a little to the south-east of Glasgow, 18 June 1861; d. Glasgow 7 July 1861), William (b. Ireland about 1863; d. Brisbane 16 March 1874).
William (aged 32), his wife Sarah (32) and their surviving children—Ann Jane (8), Sarah (5), James (5) and William (infant)—set sail from Queenstown (now Cóbh), County Cork, Ireland, on 19 February 1863 on the 1454-ton Black Ball immigrant vessel Golden Dream (Captain Ellis Griffiths) and arrived in Brisbane on 28 May 1863. Almost all of the 664 passengers and 8 stowaways on board were Irish; but there were three (possibly related) Scottish families—the Murrays, the Orrs and the Rosses. There were 6 births and 16 deaths en route and one crew member, John Leary, fell overboard and was drowned. It should be noted that the infant William's name does not appear on the shipping list, perhaps because he was so newly born.
The Murrays settled at Cooper's Plains but later moved to 'Telemon', Beaudesert. For 16 years William worked as a ganger with the Beaudesert Shire Council. The following children were born to William and Sarah in Australia: Mary (5 June 1863; d. 2 July 1910), William (b. 29 April 1867; d. Beaudesert Hospital 10 August 1950), Robert (b. 29 April 1867; d. 30 April 1867), Rose Anna (b. 9 May 1869; d. 9 October 1869), Robert Tait (b. 9 May 1869; d. Beaudesert 21 November 1954), Ellen (or Helen) Tait (b. 29 July 1871; d. 25 December 1902), Thomas Banks (b. 14 May 1873; d. Margate 11 February 1956), and Hannah Matilda (b. 19 September 1875, known as Tilly).
Two of the above mentioned children—Robert Murray (d. 30 April 1867) and Rose Anna Murray (d. 9 October 1869)—were laid to rest in what Rose's death certificate refers to as 'Grenier's burying ground' and Robert's as 'The Cemetery Cooper's Plains'. No undertaker was present at either burial.
William Malcolm Orr Murray died on 13 December 1906 at Canungra at the age of '75 years 8 months 5 days' and was laid to rest in the local cemetery two days later. The burial was certified by James Garrett and officially witnessed by Alfred John Williams and DJ Smith.
Sarah Murray passed away at Pine Creek, Canungra, on 16 July 1916 at the age of '84 years 9 months 14 days' and was buried two days later beside her husband. Matthew Braiden, a Methodist layman, conducted the service at the interment which was certified by K Pedersen and officially witnessed by Aitkin Jerome and Amos Finch—members of two well-known families in the district.
The following obituary appeared in the Beaudesert Times after Sarah Murray's death:
Mrs. Sarah Murray, an old and highly esteemed member of this community, passed away at Canungra on Sunday, July 16th, at the advanced age of 84 years. She was a native of County Down, Ireland, and had lived in Queensland for 54 years. Of a family of nine, six still live to mourn her loss, as do many grandchildren. In the old burying ground at Canungra, the aged lady's remains now rest beside those of her husband, the late William Malcolm Orr Murray, who died here about nine years ago. He was a Queensland pioneer of the old school, and had been a soldier in early life. The funeral took place on Tuesday, July 17th, and started from the residence of Mr. W. Adams [the husband of Mary, Sarah's eldest daughter], of Pine Creek, son-in-law of the deceased lady. The cortege consisted of many vehicles and horsemen, others joining on the way, to be again augmented by many of the townspeople at the graveside. The funeral service was impressively read by Mr. M. Bailden.
"Easily and quietly she passed away, As it were in sleep."