Joshua O'Brien, the son of George (a linen manufacturer) and Rebecca (née Walshe) O'Brien, was born in Belfast, Ireland, on 7 January 1858. His siblings were: William Daniel (or Michael Daniel?) (b. 1 May 1850), Mary (b. 11 January 1852), Anna (b. 19 July 1853), Louis Frederick (b. 20 March 1855), and Edward (b. 20 January 1865).
Having emigrated to Australia, Joshua married Mary Louisa Bell, the daughter of George Langtry (a clerk) and Clara Jane (née Moore) Bell, in the General Registry Office, Brisbane, on 31 October 1891 when both he and his wife were 33 years of age. At that time Joshua, a stationer and paper bag manufacturer, was living in Hampstead Road, in the South Brisbane suburb of Highgate Hill, and Mary Louisa was domiciled in nearby Sexton Street. The celebrant was Charles James Whitley and the witnesses to the ceremony were the bride's brother, William Farmer Bell, and Elizabeth Ann Elerck.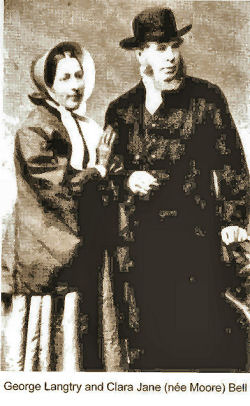 It must have been soon after their wedding that they moved to a 20-acre rural property that Joshua had acquired in what is now the south-eastern Brisbane suburb of Sunnybank. There they established Magnolia Farm where in rich soil they grew oranges, mangoes and potatoes. Their dwelling—a shingle-roofed slab-hut lined with ant-bed clay and calico which Mrs O'Brien painted red and decorated with a frieze—is still standing to this day, as are the magnolia trees which gave the property its name. To the original two rooms a detached kitchen/storeroom was later added.
Joshua and Mary Louisa's two sons, Owen Walter and Brian George, were born on 8 June 1894 and 16 November 1897 respectively. Owen Walter was a clerk and a university student when he enlisted in the AIF in World War One. He married Gwendoline Sarah Jones on 3 July 1922 and was resident in Clive Street, Annerley when he died on 20 March 1962. His cremation service was held at the Mount Thompson Crematorium on the following afternoon.
Brian George O'Brien married Constance Evelyn Connor on 6 August 1927. Both he and his brother worked in the family business
Joshua O'Brien passed away in St Martin's Hospital, Ann Street, Brisbane, on 30 June 1931, having spent 'two years in New South Wales and 41 years in Queensland'. At his private interment in the Cooper's Plains Cemetery two days later, the following had official roles: AA Hislop (undertaker), the Reverend John Massingberd Teale of the Church of England, and G Dibble and William Milne (witnesses).
Mary Louisa O'Brien was born in Hyde Park near Mallusk, County Antrim, Ireland, in 1858. The Bells were a long-standing Quaker family who had been tanners and then cotton and linen manufacturers for generations. She died at her residence in Seventeen Mile Rocks Road, Oxley, on 15 May 1936, having spent one year in Victoria and 44 years in Queensland. She was laid to rest beside her late husband on the same day in a private interment. The graveside service was conducted by the Reverend John Massingberd Teale of the Church of England in the presence of John W Hislop (undertaker) and J Dibble and J Dunstan (witnesses).
For the record, Mary Louisa's siblings were as follows: Alice Jane (b. 1856; d. 4 March 1928), Herbert Woodman (b. 1859; d. 24 May 1860), Charles Hilary (b. 1861; d. 12 April 1949, Buenos Aires), Walter Farmer (b. 1863; d. 16 July 1893), Ruth Ada (b. 5 March 1865; d. 20 (or 30?) January 1872), Theodore Tregevant (b. 13 September 1866; d. 1887, accidentally drowned in the Hudson River, New York), Leonard Moore (b. 5 March 1868; d. 26 April 1925, New Zealand), Herbert Langtry (b. 30 November 1869; d. 1874), Wilfred Stanley (b. 27 March 1873; d. 1886) and Arthur Langtry (b.18 August 1874; d. 7 August 1956).
Caption for family photo: (taken late 1886 or 1887 before Theo left for US)
Front row seated from left: Walter Farmer Bell, Clara Jane Bell, Arthur Langtry Bell, Charles Hilary Bell, Mary Louisa Bell.
Standing from left: Alice Jane Bell, Leonard Moore Bell, Theodore Trezzevant Bell.
Note: All of the children shown died outside Ireland—three in Australia and one each in the US, New Zealand, Argentina and England.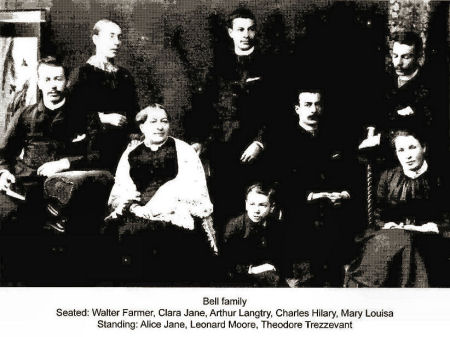 Two of these siblings also settled in Australia. The story of Alice Jane Bell is briefly told in this obituary which appeared in the Hobart Mercury after her death while visiting friends at Maydena, Sandford, aged 70 years:
Miss Alice J Bell, whose death is announced today, came out to Tasmania nearly 30 years ago. She belonged to a North of Ireland Quaker family, and was educated at Quaker schools in Ireland and at York, in England. She also taught at Friends' schools in Ireland and England. In 1903 she joined the staff of the Friends' High School at Hobart, and was house-mistress in charge of the girl boarders for just over three years. Since then she had lived in retirement at Bellerive, and in other ways had been a source of strength to the Society of Friends. She will be missed by a wide circle of friends. The funeral will take place at Cornelian Bay Cemetery this afternoon at 4 o'clock.
Walter Farmer Bell, who as noted before was a witness at his sister's wedding, died at his residence in Liverpool, New South Wales, after a short illness on 16 July 1893 in the 35th year of his age. His remains were interred in the Society of Friends' section of Sydney's Rookwood Cemetery two days later. Walter had been employed as 'supervising engineer to the Government for the erection of the George's River Bridge, Liverpool'.
Bell family records indicate that a paternal uncle of Mary Louisa O'Brien also emigrated to Australia. Robert Langtry Bell (b. 21 January 1820), an agricultural labourer from Ballyclare, the son of Richard and Ann (née Langtry) Bell, applied on 4 October 1839 for a free passage to South Australia. He died at 6.30 p.m. at Willunga, a slate mining township 23 miles from Adelaide on the Fleurieu Peninsula, on 17 June 1840.