Most of this material on the Parker family has been taken from Len Parker's excellent biography of his father, The Life of Robert Francis Parker 2 December 1912 – 19 July 1993.
Emily Jane Baills was the daughter of William Baills (a farmer), the son of Edward and Mary (née Chapman) Baills, and Ellen Ann Rice, the daughter of George and Mary Ann (née Simmons) Rice. Her parents were married in the Wesleyan minister's residence in Ipswich on 13 March 1876.
William and Ellen Ann raised a large family: William Henry (b. 16 October 1876), Thomas George (b. 3 January 1878), Mary Ellen (b. 21 December 1879), William James (b. 13 June 1882), Edward Ernest (b. 2 February 1884; d. 9 May 1953), Edith Olive (b. 20 August 1885; d. 26 November 1910), Lily Elizabeth (b. 4 April 1887), Ada Louisa (b. 3 March 1889), Emily Jane (b. 7 July 1891 Ipswich), Florence Annie (b. 10 November 1892), Ivy Violet (b. 2 December 1895; d. 14 January 1896) and Ivy (b. 3 August 1899; d. 3 August 1899).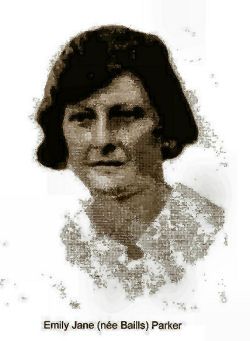 William Baills died in Mount Walker aged 66 on 25 March 1916. His wife Ellen Ann passed away on 31 May 1922 aged 63. Both were buried in the historic Mount Walker Cemetery (Boonah Shire), the resting place of several of their children: William James (d. 18 March 1919 aged 37), Edith Olive (d. 26 November 1910 aged 25), Thomas George (d. 8 May 1940 aged 62), and Edward Ernest (d. 9 May 1953).
Thomas George Baills married Martha Jenner, the daughter of Jacob Thomas and Magdalena (née Wiffler) Jenner, on 28 August 1902. Martha was laid to rest beside her husband after her death on 2 July 1952. Two of their children were also buried in this historic cemetery: Elsie May (b. 21 June 1903; d. 23 April 1914) and Percy William (b. 5 August 1910; d. 26 January 1961).
On 22 March 1911 Emily Jane Baills married Robert Ernest Parker (b. 1 July 1890 in Sunnybank, via Franklyn Vale, Queensland), the son of John and Jane (née Price) Parker, in the Church of Christ, Mount Walker. They settled on a property at Franklyn Vale, near Rosewood, where they raised five children: Edith Ellen (b. 15 July 1911), Robert Francis (b. 2 December 1912), Thomas Edward (b. 26 September 1914), George Eric (b. 31 March 1917), and William John (b. 24 July 1918; d. 27 July 1918).
Prolonged drought made it very difficult for Robert to maintain his dairy herd and to provide financially for his wife and children. In the winter of 1919 the family decided to move and purchased a 640-acre property at Paradise Road, Cooper's Plains, from a Mrs Rule. Assisted by several stockmen, Robert and his eldest son made the journey with their cattle and horses in three days. Having secured the stock with adequate fencing, the two Roberts returned to Franklyn Vale and loaded their furniture and remaining belongings on a big cart drawn by two horses. Accompanied by Emily and the other children they set out to make a new beginning at Sheep Station Creek.
Unfortunately, the drought persisted and made settling in difficult. Of more serious concern, however, was Emily's deteriorating state of health which, by the beginning of 1924, left her practically bed-ridden. She was cared for by friendly neighbours, notably by Doreen May Quick (b. 15 May 1904), the daughter of Albert and Alvina (or Alwine) Augusta (née Lutzow) Quick who were married on 22 May 1901. Emily died on 6 March 1924 aged 32 and was laid to rest in the Cooper's Plains Cemetery on the following day. Assisting at the interment were Otto Henry Mewing who certified the burial, EP Adermann of the Church of Christ, and Tom William Spring and J Cunningham (witnesses).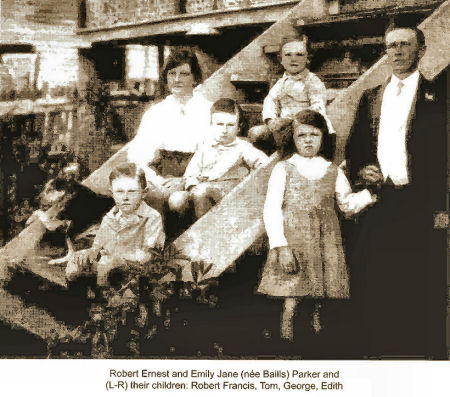 Robert Francis Parker recalled the events of his mother's funeral and that of his step-sister Joyce in these words:
Dad and our neighbour, Mr Jack Shaw, went and made arrangements for my Mother's funeral and they brought the coffin back with them in a spring cart. The hearse was drawn by two horses and travelled from the home in Paradise Road to the Cooper's Plains Cemetery. Dad and Uncle Tom drove the sulky and I rode behind them, and all the neighbours and friends followed behind us in their sulkies and horse-drawn buggies and some people rode on horses. I remember that I was only 11 years and 4 months old at the time. When my sister Joyce died in 1938, my two brothers, Tom and George, and a friend, Frank Hammerlain [sic] and I carried the little white coffin to the grave and Joyce was buried on top of her mother.
Robert survived the Depression years and provided for his bereaved family by setting up a firewood business which, at one stage, employed eight men. On 31 March 1927, three years after Emily's death, he married Doreen May Quick who had continued to help him in looking after Edie and the younger boys. Sadly, circumstances forced the sale in 1929 of the original Franklyn Vale property to which he (Robert Senior) had hoped to return eventually.
Robert and Doreen had nine children of their own: Ernest Lea (b. 4 August 1927, known as Sam), Evelyn Rose (b. 26 April 1929, 'Peanut' to her friends), Gwendoline May (b. 6 November 1931; d. 3 February 1998), Elizabeth Joyce (b. 4 July 1933, known as Joyce; d. 12 December 1938), Herbert Spencer (b. 8 December 1935), Stanley James (b. 1 September 1938), Dorothy Valetta (b. 24 March 1941), Ronald Norman (b. 14 January 1943), and Violet (b. 29 October 1945).
Two of these children died young. Elizabeth Joyce Parker passed away aged 5 in the Hospital for Sick Children, Brisbane, on 12 December 1938. Present in an official capacity at her funeral service in the Cooper's Plains Cemetery were: R Calvert who certified the burial, Pastor Norman G Noble of the Church of Christ, and J Dibble and J McGuinness (witnesses).

Violet Parker was born prematurely on 29 October 1945 and died on the next day. At her interment in the Cooper's Plains Cemetery the following people exercised official roles: K Jones who certified the burial, Mrs EE McMurray (lay reader), J McGuinness and F Lloyd (witnesses).
Recalling the burial of his sister Joyce, Sam Parker, the leader of the original God's Acre Restoration Committee, wrote in the Johnson-Grantham booklet:
I can remember standing under the camphor laurel tree that still stands at the entrance to God's Acre Cemetery, when I was 11 years old, and watching as the little white coffin of my little sister was carried to her resting place. I was standing with my grandmother Mrs Quick and I remember that it was a very hot day and that the tree gave us shade … I also recall the funeral of another baby sister [Violet] who only lived for a matter of hours; and I remember a Mrs McMurray, who lived where General Motors buildings are today [1991], conducting the funeral service. Mrs Drew, who had the post office at Acacia Ridge, was also at the funeral. I know that Mr Tom Spring, who had a dairy farm along Kerry Road, used to be the man who dug the graves at the time. I do not know whether he was paid for that work or whether it was an honorary job. Elizabeth Joyce was my sister who died when I was 11 years old.
The Parker boys will be remembered for their work in the timber industry. Robert Francis and George, who went on to become a world champion in the sport, were regular competitors in wood-chopping events at the annual RNA Show at the Brisbane Exhibition Grounds.
Doreen May Parker was living in Mitchell Street, Acacia Ridge, when she passed away on 15 August 1965. She was laid to rest in the Mount Gravatt Cemetery (mon. 2B 11 1030) two days later after a service in the Acacia Ridge Church of Christ. Her husband Robert Ernest Parker died on 2 August 1971 and was cremated at the Mount Thompson Crematorium two days later after a service in the same church.