George Riley, the son of Benjamin (a weaver) and Hannah (née Cooke) Riley, married Agnes Crane, the daughter of John and Eliza (née Beech) Crane. Their marriage was registered in Kidderminster, Worcestershire, in the December quarter of 1879. The details collected on the day of the 1881 census (5 April) reveal that George and Agnes were living at 63 Preston St, Barrow-in-Furness, Lancashire, with their 1-month-old daughter Ada Frances (d. 2 February 1909). George (aged 28) is identified as an engine fitter who was born in Leeds, Yorkshire. The birth place of Agnes (aged 23) is given as Kinfare (now called Kinver), Staffordshire.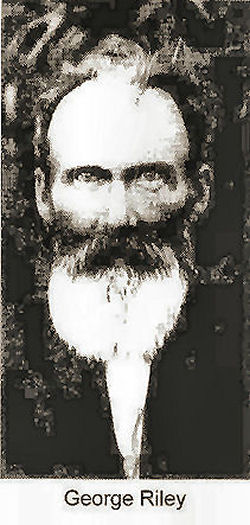 A son George Frederick was added to the family before they boarded the 1357-ton barque Linlithgowshire (Captain David Stott) in Glasgow as bounty passengers bound for Australia. The ship set sail on 10 October 1883 and, having been towed up the Brisbane River by the Boko, anchored in the Garden Reach on 15 January 1884. The 458 newcomers—'a healthy and respectable looking class', in the judgment of a local journalist—were transferred to the Immigration Depot that evening. There had been six deaths and 3 births en route.
George Frederick died six months later on 11 July 1884 and was laid to rest on the following day in the South Brisbane Cemetery (12A 21). Agnes and George had four other children: Florence (b. 7 October 1885), Henry Beech (b. 26 March 1888), Helen Eliza (b. 13 August 1890), and Agnes Louisa (known as Louisa, b. 25 August 1896). Sadly, two of these siblings also died very young—Henry Beech on 17 May 1890 and Helen Eliza on 3 December 1892. They, too, were buried in the South Brisbane Cemetery (5A 118).
Two of George and Agnes's children are of special interest to us in connection with God's Acre. Ada Frances Riley married William Rookwood, the son of Arthur and Sarah (née Bishop) Rookwood, on 26 September 1906. Their daughter Isabel Ada was born on 19 January 1909; and a few weeks later, on 9 February, Ada Frances passed away. The baby was cared for by her sister Florence Riley whom William married on 12 April 1910. See the entry under Rookwood.
George Riley died on 30 May 1912 and was buried from his residence on the following afternoon in the Cooper's Plains Cemetery. Those present at the burial in an official capacity were: W Cannon (undertaker), the Reverend James Gibson of the Presbyterian Church, and the two witnesses—Robert Sutherland and JH Cripps.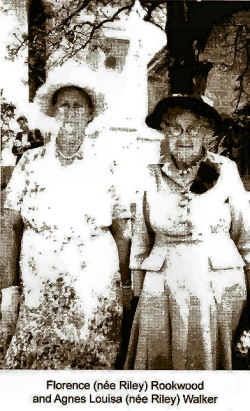 Agnes Riley was christened in Kinver, Staffordshire, on 27 September 1857 (IGI). In her latter years she lived in Pomona, a town 166 km north of Brisbane, with her widowed daughter Florence, the relict of William Rookwood. Agnes died there aged 88 in the Cooroora Private Hospital, on 8 October 1945. She is identified in her death notice as the 'beloved Mother of Mrs. F. Rookwood, Mrs. W. T. Walker, & Grandmother of Bell, Flo, Hilda, Ted, Bill, Mavis, Bill & Valma'.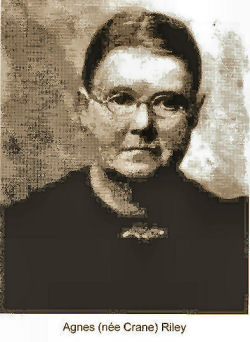 The following obituary appeared in the Gympie Times:
Obituary.—There passed away at her residence at Pomona on October 8, a very old and highly respected resident of Pomona in the person of Agnes Riley. Deceased who was 88 years of age was born at Kidminster [sic], England and came to Queensland 62 years ago, and after living in Brisbane for a few years came to Pomona where she had resided till the time of her death. She leaves two daughters Mrs. W. Rookwood (Pomona) and Mrs. W. Walker (Brisbane) to mourn their loss, her husband having predeceased her several years ago. The funeral took place at the Pomona cemetery on October 9 following a service at the Church of England. The The Reverend A. Haysom officiated.