Thomas Sidey, the son of Henry (manager of a cotton mill) and Mary (née Orrell) Sidey, married Ellen Bleakley, the daughter of John (an overseer) and Sarah (née Edge) Bleakley on 23 December 1850 in the Church of St Mary the Virgin—a place of worship which had stood in Deane (near Bolton), Lancashire, since 1452. Both bride and groom were resident at that time in Halliwell, a township in the parish of Deane. The Reverend AG Campbell presided at the ceremony which was officially witnessed by Joseph Heaton and Mary Ann Worthington. [Thomas was christened on 30 March 1828 in the Church of St Peter, Bolton Le Moors, Lancashire].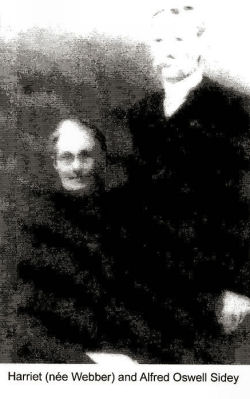 We know something of Thomas Sidey's parents and siblings from the records of the 1851 census. Living at that time in Elliott Street in the township of Tyldesley (pronounced TILDS-lee) were: Henry (48), Mary (47), Jane (23), Elizabeth (18), Mary Ellen (15), Eliza (13) and Esther (10).
When the 1861 census was taken, the household of Thomas and Ellen Sidey was listed as follows: Thomas (31), Ellen (35), Thomas Henry (9), Mary Ellen (7), Elizabeth Ann (5), Alfred Oswald (4), Walter Blakely [sic] (2). In the light of what follows, the parents' ages seem to be back to front. The child listed as Thomas Henry is surely the Hiram Henry (b. 1851) mentioned below.[Where was Thomas living at this time?]
Having decided to migrate to Australia, Thomas and Ellen Sidey and their children set sail on the 1361-ton Black Ball clipper, Fiery Star (Captain WH Yule). In the shipping records the ages of the Sideys are given as follows: Thomas (37), Ellen (34), Hiram Henry (wrongly listed as Kirwan) (14), Mary Ellen (12), Elizabeth Ann (10), Alfred Oswell [sic] (8), Walter Bleakley (6), Tom Orrell (4), John Arthur (infant). Accompanying the Sideys were Thomas's young sister Esther (24), her husband Robert Mason (25), and their children Elizabeth (4) and Mary E (an infant).
Having embarked 324 passengers (mostly government immigrants) in London, the ship sailed from Gravesend on 11 August 1863; and, after berthing at Queenstown (Cork) to take on board another 230 passengers, set out for Brisbane on 19 August. It was not Captain Yule's first visit to Australia; for he had travelled with his father, Captain Adam Yule, on the Lima's historic voyage in 1847 [check].
There were four births and nine infant deaths en route. One of those needing medical attention was Tom Orrell Sidey whom the Surgeon-Superintendent, Dr James Johnstone Luce, treated for persistent diarrhoea, the last time on 19 November—the day before the ship's arrival in Brisbane.
Under cover of darkness 16 members of the crew lowered one of the boats hanging from the davits and deserted. On a happier note, the saloon passengers entertained Captain Yule and Dr Luce at a public dinner at the Royal Hotel under the chairmanship of the Reverend P Dunne on the evening of Thursday, 26 November.
In time, many of these emigrants, 'as respectable a body of passengers as ever came to the colony', would have heard of the sorry fate of their captain and his ship. En route from Brisbane to London in 1865, it caught fire about 650 km from the Chatham Islands. Seventy-eight passengers and crew (including Captain Yule), who eventually abandoned the vessel on 20 April in two overcrowded boats, were never seen again. The 18 male volunteers who remained on board fought the fire (bales of wool and tallow were alight in the lower hold) for 21 days and were rescued by the Dauntless (Captain Moore) half an hour before the ship sank. The remains of the Fiery Star were discovered off the North Island of New Zealand in 1971.
Three other children were added to the Sidey family in Queensland—Sarah Jane (b. 18 July 1865; d. 1 November 1866), Ruth Emma (b. 4 May 1868; d. 26 November 1953 ), and Amy Alice (b. 8 January 1873).
Following his father's profession, Thomas Sidey worked for a time as an overseer in a cotton mill. The family lived at Hotham on the Pimpama River before moving permanently to Brown's Plains where Thomas worked as a timbergetter and shingle splitter.
Ellen Sidey, who was born in Elton, Lancashire, died in Brown's Plains on 5 February 1885 aged 55 and was laid to rest in the Cooper's Plains Cemetery two days later. Present in an official capacity were William Goostrey (Ruth Emma Sidey's husband or possibly her father-in-law), the Reverend James Samuel Hassall of the Church of England, and Alfred Ansell (Ellen Sidey's son-in-law) and William Orr (witnesses). No notices it seems!! To 27/4 and 17/2. Try Q.
Thomas Sidey died at the age of 73 on 17 April 1898 at Brown's Plains and, according to his death certificate, was buried at Brown's Plains two days later. While the evidence is not conclusive, it seems very likely that he was interred in the same grave in the Cooper's Plains Cemetery which had received his wife's remains in 1885. Those present at his burial in an official capacity were: Thomas Webber (son-in-law), Walter Simmonds (a local preacher), and John Barter and William Morton Goostrey (witnesses). The remains of John Barter (d. 10 June 1905) and his wife Sarah (d. 17 January 1884) and the remains of Thomas Webber (d. 3 November 1912) and his wife Elizabeth Ann (d. 4 September 1891) also lie in this cemetery.