As a memorial plate at God's Acre indicates, plots were allocated there for the Sims family whose property was close to the cemetery. Remembering them for the pioneers they were, Shirley Sims has contributed the following material which is gratefully acknowledged by the researcher. Appropriately, as will be seen, it precedes the entry on the Spring family.
George Sims (b. 30 April 1879) was the third son of William Sims who married Mary Ann Marriage on 5 April 1875 at St Mary's Church, Spital Square, Spitalfields, Middlesex, England. Born in Bethnal Green, London, in 1843, Mary Ann was the daughter of Charles (a packer) and Susanna (née Matthews) Marriage. Before her wedding she lived in an institution in the Spitalfields area near Stepney in London and worked as 'a visitor of the sick and poor'.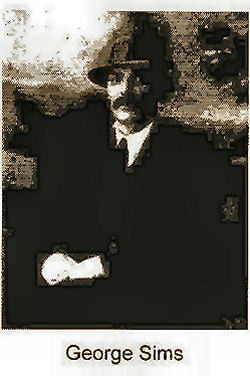 After their marriage William and Mary resided at Norwood Green, Southall, London where they raised their five sons: William Jr (b. 1875), Sam (b. 1877), George (b. 1879), Harry and Rob. William Sims Sr was killed on 20 February 1887.
At the time of the 1881 census the record of the Sims household in Norwood Green (all born in Middlesex) was as follows: William (34. b. Uxbridge, unemployed general labourer), Mary A (37, b. London), William C (6, b. Norwood), Samuel J (4, b. Norwood), George (2, b. Norwood), and Jean Watts (22, b. Paddington, visitor, nurse and domestic).
George Sims married Catherine Kate Spring, the sister of Tom William Spring, at Hillingdon, Middlesex, the bride's birthplace, in 1900. Catherine was the seventh child of James and Emma (née Mason) Spring and the grand-daughter of William (an agricultural labourer) and Elizabeth Spring. More about her family background may be read in the Spring entry which follows.
Three children were born to George and Catherine while they were living in England: Catherine Kate (b. 20 January 1901; d. six weeks later), George William (b. 24 December 1902) and Cyril Henry (b. 30 January 1908).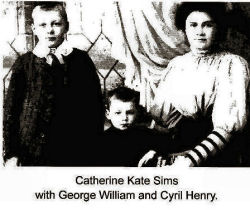 Intent on finding a better place for their families to live, George Sims and his brother-in-law Tom William Spring travelled to Australia via Teneriffe and Cape Town on the 11,000-ton RMS Ruahine (Captain F Forbes). The ship left the Royal Albert Docks (London) on Friday, 9 June, and, after embarking passengers at Tilbury, proceeded to Plymouth where more passengers and mail were taken on board. As well as recording the arrival of the vessel in Hobart on 20 July, the local newspaper, the Mercury, includes a passenger list in which the names TW Spring and G Sims, both bound for Brisbane, appear.
Four days later our two travellers boarded a ship for Sydney. One can deduce from shipping records that this was almost certainly the 2,700-ton Palooma (Captain Livingstone) which reached Sydney on 26 July. The final leg of the journey to Brisbane was made on the 2,200-ton Peregrine (Captain WTC Firth) which reached its destination on 31 July 1911.
As far as is known, George and Tom obtained board and lodging there at a boarding house owned by Mrs Hayes, Stanley Street, opposite East Brisbane State School. From here they found work as labourers digging trenches for pipelines around Brisbane. They later moved to a property known as Barlow's farm at Ipswich Road, Rocklea, before nominating their families for travel to Australia.
George Sims's wife Catherine Kate and their two sons, George William (9) and Cyril Henry (3), together with Tom Spring's wife Annie and their three young sons—Charles (9), Cyril (6) and Alexander (3)—sailed from London as nominated passengers on the Rippingham Grange (Captain A Lay) on 17 January 1912. The ship reached Moreton Bay on 14 March 1912 and berthed in Brisbane on the following day.
Two more children were born after Catherine's arrival in Australia—Stephen James on 10 December 1916 and Edith Nellie on 4 April 1921.
After living at Barlow Farm for some time, the two families purchased properties on Kerry Road near Archerfield Aerodrome. There they separately engaged in dairy farming. The younger members of the Sims and Spring families delivered milk on horseback before going to school. Some of their regular customers were living at South Brisbane. The children completed their education at the Cooper's Plains State School.
The return shopping trip to Brisbane by horse and sulky for food supplies, probably once a fortnight, was a full day's journey. On one of these trips George Sims left home for the normal shopping expedition and on the way home the horse shied and George was thrown from the sulky and injured his right arm. It later became infected, resulting in the arm's being amputated to the elbow. This unfortunate accident put a strain on the family's normal dairying activities; and George obtained work as a nightwatchman at Archerfield Aerodrome.
It was at this time that the families became involved with 'God's Little Acre', the cemetery at Archerfield Aerodrome and continue to retain an interest in this sacred area.
During the early stages of World War Two the properties owned by the Sims and Spring families were purchased by the Commonwealth Works Department for use at the aerodrome for war service activities. Subsequently, the family home of George and Catherine Sims was moved from Kerry Road to a site on Beaudesert Road, Cooper's Plains, where they lived until just prior to their respective deaths.
George Sims passed away at the home of his daughter (Edith Toy) at Dora Street, Moorooka, on 19 September 1948; and Catherine passed away in the Brisbane Hospital on 6 December 1953. Both burials took place in the South Brisbane Cemetery (4 470).
George Jr continued in the dairying industry. Cyril established himself in the earthmoving and trucking industry, now still operated by his four sons and one daughter. Stephen was involved at Archerfield Aerodrome as an aircraft engineer; and Edith worked at the aerodrome until her marriage to Ron Toy, also an earthmoving contractor. All of the family of George and Catherine have since passed on.