The Spring family lived very close to God's Acre; and, though they were allocated plots, no member of the family is actually buried there. Tom William Spring's name often appears in these pages because, as noted elsewhere, he had a close connection with the cemetery as a gravedigger. Tom hailed from Hillingdon, Middlesex, where he was born to James and Emma (née Mason) Spring on 2 September 1877. His paternal grandparents were William (an agricultural labourer) and Elizabeth Spring. The latter, who was known as Betsey, lived with James and Emma for some years after the death of her husband.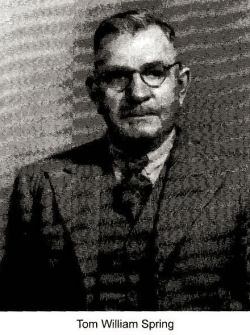 At the time of the 1881 English census the members of the Spring household at Colham Green Road, Hillingdon, were listed as follows: James (bricklayer, 38), Emma (35), Sarah (13), Emma (12), James (10), Joe (8), Eliza (6), Tom (4) and Catherine (1). Another child, Harriet, was born soon after.
Tom William Spring married Annie Jane Uzzell (b. Aberdare, Wales, 6 December 1877), the daughter of John and Annie (née Davis) Uzzell, on 2 November 1901. According to a Spring family researcher, Tom and his brother James went to South Africa to work in the gold fields when the Boer War started. There they were offered free boat travel to Australia if they joined the Australian Light Horse Contingent. This version of events is supported by a photograph of Tom dressed in a Light Horseman's uniform and by the fact that he travelled from South Africa to Kalgoorlie. Once again the quest for gold might have been the motivating force for this choice.
With a view to securing a more prosperous and secure life for his wife and, in time, their children, he purchased property in Western Australia and forwarded 18 sovereigns to Annie to cover the costs associated with her emigration. However, as she refused his invitation to join him in Australia, Tom felt that he had no option but to revise his plans and return to England. Annie later reversed her decision when her deteriorating health suggested that the Australian climate would suit her better. It obviously did because she died here at an advanced age.
Before Tom and Annie emigrated to Australia their union was blessed with the following children: Charles William John (b. 18 April 1902), Cyril Frederick James (b. 22 June 1905), and Alexander Frank Emanuel (b. 17 January 1909).
Travelling ahead of Annie and their children, Tom returned to Australia on the RMS Rahine in 1911, intending to find a suitable place for them to settle down to a new and more prosperous way of life. He was accompanied by his brother-in-law George Sims who was on a like mission with respect to his own young family. Details of the voyage may be read in the preceding Sims entry.
As shipping records indicate, Annie Spring (32), Charles (9), Cyril (6) and Alexander (2) were listed as nominated passengers on the 6827-ton Rippingham Grange (Captain Lay) which sailed from London on 17 January 1912. The ship reached Moreton Bay on 14 March 1912 and berthed on the following day. George Sims's wife Catherine Kate and their two sons, George William (9) and Cyril Henry (3) were also passengers on this voyage.
After their arrival in Brisbane three more children were added to the Spring family: Reginald Tom (b. 8 August 1915), Nancy May (b. 31 May 1917), and Dorothy Elizabeth (b. 10 January 1920). Details of the children's marriages and deaths are endnoted where they are known.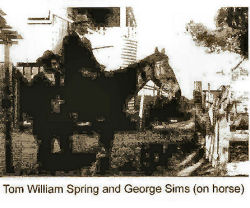 Annie Spring and Tom were living in Hellawell Road, Sunnybank, at the time of her death on 28 August 1964. Her cremation service took place at the Mount Thompson Crematorium on the following morning.
Tom William Spring spent his last years in the Freemason's Home at Sandgate which he entered in 1964 and where he died on 6 October 1968. He was cremated two days later at Mount Thompson.