George William Bennett Story, the son of Thomas (a grazier) and Ann(e) (née Davis) Story, was born in Colac, Victoria, 'at a time when Christian names were plentiful', on 24 March 1849. On the completion of his education at Geelong Grammar School when Canon Vance was Principal, he worked for some years in a variety of occupations in Victoria, in New Zealand's South Island (gold mining) and in Tasmania (dairying and sheep raising). In 1882 he married, according to the rites of the Church of England, Ellen Lavinia Fletcher (b. 28 June 1857 at Longford, Tasmania), the daughter of George Henry Gatty (a grazier) and Martha (née Corney) Fletcher. The following notice from the Hobart Mercury records the event:
STORY-FLETCHER.—On November 2, at St. Luke's Church, Campbell Town, by the Reverend Charles Vaughan, George W. B. Story, of Queensland, to Ellen Lavinia, second daughter of Geo. H. G. Fletcher, of Glenelg Cottage, Campbell Town.
For those unfamiliar with the geography of this region, historic Campbell Town lies on the Elizabeth River on the Midland Highway, 67 km south of Launceston and 132 km north of Hobart. Both the town and the river were named by Governor Macquarie after his wife, Elizabeth Campbell.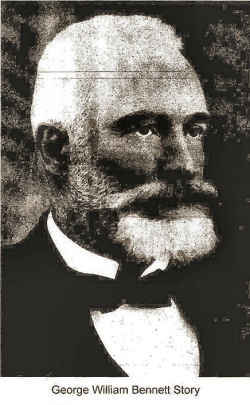 The Fletcher family. Ellen Fletcher's Longford-born siblings were: Frederick Thomas Howard (b. 20 December 1855), Arthur George (b. 13 November 1858), Sydney John (or Sydney Thomas?) (b. 12 June 1860), Emma Catherine (b. 3 August 1861), Leslie Charles (b. 14 October 1862), Florence Maude (b. 23 July 1866; d. 23 September 1875).
Ellen's father, George Henry Gatty Fletcher, died in his 56th year on 29 January 1883 and, with the Reverend Vaughan presiding, was buried from his residence, 'Glenelg Cottage', Campbell Town two days later. After her husband's death Martha Fletcher moved to Melbourne where she lived with her brother, John Frederick Corney, at Wando, Bambra Road, Caulfield. She died there at the age of 62 on 25 February 1891 and was interred in the Brighton Cemetery on the following day.
George and Ellen Story raised eight children: Thomas George Fletcher (b. 9 October 1883), Norah Ellen and Violet Ethel (b. 3 January 1885), Howard Ford (b. 3 March 1886), James Sidney (b. 12 November 1888), Effie Constance (b. 16 June 1890; d. 24 February 1891; bur. Cunnamulla Cemetery on the same day), Keitha Jeannie (b. 10 July 1891), and George Lloyd (b. 1 December 1895). All were born in Queensland with the exception of Howard Ford who was born in Campbell Town, Tasmania.
George was not the only Story to come to Queensland. His mother, Ann (née Davis) who was born in Victoria about 1822, was living with the family in Stanley St, East Brisbane, when she died on 18 May 1899. She was buried in the South Brisbane Cemetery (8B 340) on the following day.
George's sister, Ann Sarah (b. Geelong 1855), the relict of Lionel Fairley, was laid to rest in the same grave as her mother after her death at the age of 81 on 14 July 1936. Lionel, 'late of Townsville' (d. 11 June 1925), was the son of William and Margaret (née Affleck) Fairley.
Another sister, Jane Maria (b. Geelong 1853), died on 16 November 1894 and was buried in the Nundah Cemetery (13 1 16) on the following day. She was married to Angus Adam Amos, the son of James and Mary Ann Jane Collins (née Jackson) Amos, in Geelong in 1873.
George Story died on 3 June 1931 at St Martin's Hospital, Ann Street, Brisbane and was buried on the following afternoon in the Cooper's Plains Cemetery. Present at the funeral service, conducted by the Reverend Walter Thompson of the Anglican Church, were family and friends and many people from primary producers' groups and the business community. The undertaker was AA Hislop of John Hislop & Sons and the witnesses to the burial were G Dibble and A Thompson.
George's life is well summarised in an obituary, one of several which appeared in the press:
Mr. George W. B. Story
The death of Mr. George William Bennett Story, for many years a prominent citizen, who was closely identified with the pastoral industry, took place in St. Martin's Private Hospital yesterday, at the age of 82. The late Mr. Story was born in Victoria on March 24, 1849. He spent his early days in Avoca, Tasmania. On August 16 1875, he rescued from the flooded South Esk River, Emma and James McCarthy and Jas. Wareham, who had been swept away with their vehicle in the great flood. The Royal Humane Society awarded him the Stanhope Gold Medal with vellum certificate, and the silver medal of the society for his deed. After leaving Tasmania he went to New Zealand, and then took up sheep farming in Gippsland. In 1881 he came to Queensland as manager of C. B. Fisher's Burgorah and Dareel stations in the St. George district. In 1886 he established, with others, the firm of Story Bros, Seaton and Co., stock and station agents in Cunnamulla. In 1896 be became member for Balonne in the State Parliament. Mr. Story [in terms of political allegiance a ministerialist] was re-elected in 1899 and again in 1902, but in 1904 he was deposed by the late E. M. Land [Edward Martin Land of the ALP], who gained the majority by 110 votes. During his term in Parliament Mr. Story pioneered the itinerant teacher movement to give education to the distant bush children by visiting teachers. He was a fine speaker, most informative on any matter connected with the land settlement and development, and one whom Parliament always listened to with the greatest respect. In August 1907, Mr. Story became one of the foundation members of the firm Sturmfels, Limited (now Sturmfels Primary Producers' Co-operative Association, Ltd.), woolbrokers, stock and station agents, and under his able management the business soon became a noted factor amongst the graziers and pastoralists throughout the State. About six years ago he relinquished the active management, and was then retained as an advisor of the company. The funeral will leave Hislop's parlour, Peel-street, South Brisbane, this afternoon, at 3.30 p.m., for the Cooper's Plains Cemetery.
Similar details appear in other tributes to George Story. In one of them his talent as a writer is commented on:
A versatile writer, his wit and humour helped much to enlighten the columns of the "Warrego Watchman," which for good reason he for a time also edited. His poems during the long drought were epics of humour and pathos … [He was a] kindly, generous hearted fine type of English gentleman. His forebears came from Somerset, and he had all the high qualities of an Englishman. So passes away
"A man in all the hidden sense
That gives the grand old word its might,
A man who found his recompense
In knowing he had done the right."
In an earlier piece which appeared in Progress in a series profiling members of parliament, George is said to be one who 'talks fluently in a style that suggests the idea of pumping up water from a great depth. Supports the government but does not believe in them.' The reader is also referred to a similar, but more lengthy, profile—too long to quote here in full—which appeared in the Brisbane Courier on Friday, 8 May 1907, page 10. This latter article is accompanied by a large photograph of George whose strong features and handsome appearance would surely have commanded people's attention.
In passing, it might also be noted that George Story was a strong opponent of extending the franchise to women. He once predicted: 'There must be dissention at home unless the woman votes exactly as the man wants her. She might vote directly against he husband's interests.' On another occasion he claimed that the parliamentary gallery would be filled with women if they truly wanted the vote, conveniently overlooking the fact that he was speaking at 7.30 p.m.
Ellen Lavinia Story, who lived with her husband at 'Sunnylands' [or Sunnyland as in death cert?], Runcorn, died on 11 January 1916 in an ambulance on the road near Cooper's Plains. Present in an official capacity at her funeral service, which took place at the Cooper's Plains Cemetery three days later, were: Abraham Hislop (undertaker), the Reverend CW Light (Church of England minister), Tom William Spring and D Robinson (witnesses). George Story was 'reviewing old acquaintances' in the St George district when, having received news of his wife's death, he returned in haste to Brisbane.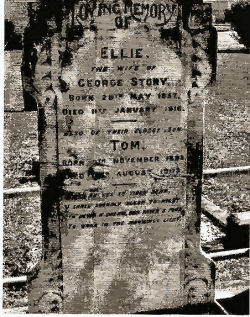 Thomas Fletcher Story, the son of George William Bennett and Ellen Lavinia (née Fletcher) Story was born on 9 October 1883 in Dareel on the Mooni River about 10 miles from Mungindi on the Queensland side of the border with New South Wales, in the St George district. The following report from the Brisbane Courier tells how he met his untimely death on 13 August 1903.
FATAL ACCIDENT AT SUNNYBANK
An accident occurred at Sunnybank yesterday afternoon, resulting in the death of Mr. Thomas Story, son of Mr. G. W. B. Story, M.L.A. It appears that Mr. Thomas Story, who was about 19 years of age, was engaged in clearing land, and while grubbing out a tree it fell on him and caused fatal injuries. The deceased man won an exhibition bursary about three years ago, and had just completed the course at Gatton College. With his brother, he was working on a piece of land, where the accident occurred, with the object, it is understood, of taking up farming. Mr. and Mrs. Story were in Brisbane at the time of the accident, and returned home immediately the intelligence was conveyed to them. Much sympathy was expressed for Mr. Story by members of the Legislative Assembly last night, and the Premier forwarded a message of condolence.
Thomas Story's funeral took place at the Cooper's Plains Cemetery on 14 August 1903. Those present in an official capacity were: JT Smith (Jackson Smith undertaker?), J O'Brien (lay reader), William Main and Frederick (illegible?) (witnesses).
An inquest into the tragedy was held in the Police Court, South Brisbane, in the presence of Robert D Neilson JP on 19 August 1903. Alfred Wilson, who had been employed by Thomas Story for a few weeks was assisting him in a tree-felling operation at the time of the accident. He claimed that a sudden strong breeze at about 4 o'clock in the afternoon caused a tree they were working on to crash to the ground. Unfortunately, Thomas Story jumped the wrong way and was pinned to the ground by a large branch which badly fractured his skull. Alfred Wilson then sought help from a Sunnybank farmer, John Thompson Walker, who was ploughing some land in the vicinity. On the way back to the accident site, they called on William Main who returned with them. According to Walker, the tree stood about 50-60 feet high and was about 2 feet 6 inches through. Having succeeded in removing the offending branch, they took the body of the young man to the residence of his parents. Mr Neilson returned a verdict consistent with the facts as reported to him.