George Sutherland, the son of William (a blacksmith) and Jessie (née McMullen) Sutherland, was born in Renfew, Scotland. He married Mary Thompson (b. Greasby, Cheshire), the daughter of Alexander and Susannah (née Briscoe) Thompson. Their marriage was registered in Birkenhead, Cheshire, in the December quarter of 1871.
At the time of the 1881 census the family residence was at 300 Laird St, Birkenhead. Those mentioned in the records are: George (36, iron moulder), Mary (31), William (8), George H (6) and Mary Thompson (15, domestic servant) who may have been a niece of George and Mary. For whatever reason, there is no mention of their then two youngest children—Jessie and Mary—who were probably resident elsewhere on 3 April, the census day.
The Sutherlands emigrated about 1887 on a ship yet to be identified [Try land grants. 120/141; 122/76; 122/51? Try NSW]. Two more children were added to the family before their departure for Australia—Edith (b. 25 April 1881) and Agnes (bap. 27 April 1884).
Sadly, Mary Sutherland died tragically on 2 February 1892 after enduring a spinal fracture caused by being thrown out of a dogcart. According to her death certificate, the children at the time of the fatal accident were as follows: William (19), George Henry (17), Jessie (14), Mary (12), Edith (10), and Agnes (7). [A Mary S m. James Warren 31/12/1909; a Mary S m. Ernest Francis Edward Summers 1.12.1914. Nil for her d. 1935-1965. Check again under those names]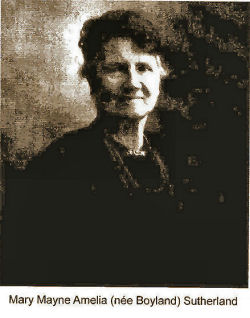 Mary was laid to rest in 'Grenier's Cemetery' on the following day in a service at which the following gentlemen had official roles: the Reverend James Samuel Hassall of the Church of England, William Francis Lyon (undertaker), W Kinghorn and Samuel Bradshaw (witnesses). Details of her accident appear in the following newspaper report:
Broken Neck
Further Particulars
In our issue of yesterday appeared a paragraph under the heading "A Broken Neck," giving information as to a fatal accident which occurred to a Mrs. Sutton[sic] on Tuesday night. The particulars then to hand were extremely meagre, and have since proved to be incorrect in character. The following are the facts of the case with the correct names of the parties: About 5 o'clock Mrs. Bradshaw, wife of the State school teacher at Cooper's Plains [Samuel Bradshaw], accompanied by Mrs. Sutherland, wife of Mr. G. Sutherland, foreman moulder in the employ of Messrs. Evans, Anderson, and Phelan, was driving a dogcart towards home from town. They were approaching the railway gates, Salisbury, and a little beyond the Beaudesert road bridge, when a dray was seen approaching in an opposite direction. Mrs. Bradshaw drew off the road to the side to avoid the dray. The horse in the dogcart shied at some object and in the bolt it made it is supposed that the wheel struck on some obstacle causing the vehicle to be completely turned over and both ladies thrown out. Mrs. Sutherland was instantly killed, and when subsequently examined by Dr. Webb it was ascertained her neck was broken. Mrs. Bradshaw was stunned, and her face scratched, and these in addition to the great shock to her nerves caused by Mrs. Sutherland's death, have prostrated her, although she is now recovering as well as can be expected. Mr. Woods, of the Rose and Crown Hotel, Cooper's Plains, was following behind, and hastened to their assistance when he saw the accident take place. Constable Fagg, of Rocklea, was at once informed, and subsequently a son of Mrs. Sutherland, who works at Rocklea, was communicated with. Dr. Webb was telegraphed for, and later on the son met the father at Rocklea, when he was returning home from work, and told him the sad news. The remains of deceased were removed to her home, and were yesterday interred at the local cemetery. Mrs. Sutherland, who was highly respected in the district, leaves a family of six children, the eldest of whom is 20 years old, and the youngest eight years.
On 22 February 1893, a little over a year after his first wife's death, George Sutherland married Mary Mayne Amelia Boyland (b. 18 September 1858 South Brisbane), the daughter of Thomas and Margaret (née Orr) Boyland. They became the parents of two boys: Ernest (b. 26 November 1893) and Norman (b. 2 January 1899; d. 19 September 1900). [and Walter (22 April 1908?). [check Walter's death, before George. Mystery. Not on George's death cert., nor Mary's. Definitely in BDM b. 22/4/1908 1920/000298. May be an adoption.] There is a Geo. Sutherland who married Alice Johnson on 2/7/1899.
George Sutherland passed away at Lota, a Brisbane bayside suburb, on 9 July 1926 and was buried in the Cooper's Plains Cemetery on the following day. Present in an official capacity were: John W Hislop (undertaker), the Reverend Allan MacDonald MacKillop of the Presbyterian Church, and Tom William Spring and M Gallein (witnesses).
Mary Mayne Amelia Sutherland, George's second wife, outlived her husband by many years and celebrated her 105th birthday on 18 September 1963. She was living at 49 Carville St, Annerley, when she passed away on 6 February 1964. Two days later her remains were cremated at the Mount Thompson Crematorium.
Norman Sutherland
, the younger son of George (an iron moulder) and Mary Mayne Amelia (née Boyland) Sutherland, was born on 2 January 1899 and passed away at Tillot Street, Dutton Park on 19 September 1900. Norman's funeral took place at the Cooper's Plains Cemetery on the following afternoon. Present in an official capacity were: Joseph Miller (undertaker), the Reverend John Stewart Pollock of the Presbyterian Church, and George Boyland and William Sutherland (witnesses).