The researcher acknowledges the considerable assistance he has received from the following book, a copy of which is held in JOL: Unwin Descendants Committee 1983, James Elijah and Mary Unwin and Family, Immigrants to Queensland 1983: Their Descendants and Forebears A.D. 1983.
James Elijah Unwin, the son of James (a weaver) and Mary (née Whitehurst) Unwin, was born in Hurdsfield, a little to the north-east of Macclesfield, Cheshire, on 27 September 1842. His parents (m. 10 June 1828) had the following children: Margaret (b. 1829), George (1831), Prudence (b. 1835), Mary (b. 1838), Emanuel (b. 1840), James (b. 1842), Ann (b. 1845) and Elizabeth (b. 1848). As the following entry for their household indicates, most of these children were still living with their parents when the English census was taken on the evening of 30 March 1851: James (head 47, silk weaver), Mary (wife 44, housekeeper), George (son 19, labourer), Prudence (daughter 15, silk piecer), Emanuel (son 10, errand boy), James (son 8, errand boy), Ann (daughter 6, at home), Elizabeth (daughter 3, at home). It should be obvious from this list that James Elijah, deprived of any opportunity for schooling, was already engaged in fulltime employment, possibly working a 12-hour day.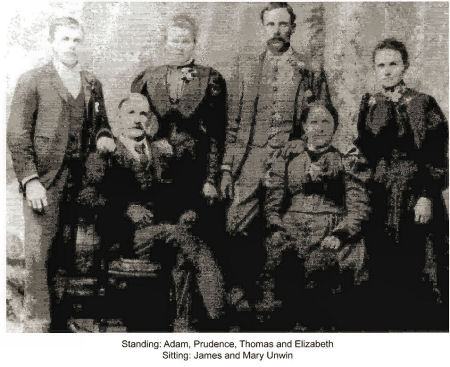 Among the many other families engaged in the silk industry at that time were the Proctors who, before the birth of their then two youngest daughters, had moved from Staffordshire to Lunt Hill, Macclesfield—Adam (55, agricultural labourer), Mary (38, silk piecer), Elizabeth (13, silk piecer), Mary (11), Ann (5) and Martha (2). Two more girls, Rachael and Charlotte, were to be added before the 1871 census was taken, by which time the Proctors were living at 6 Barber Street. Adam and Mary were also caring for the child of their daughter Elizabeth (another Elizabeth) who had died in childbirth aged 23.
The two families came together when James Elijah Unwin married Mary Proctor according to the rites of the Church of England in St James's Church, Sutton, about 2 miles outside Macclesfield, on 18 July 1870. The witnesses were Emanuel Whitehurst, James's maternal uncle, and Ann Proctor.
James and Mary were living in 30 Swettenham Street, Macclesfield, Cheshire, when the decennial census was compiled on the evening of Sunday, 3 April 1881. James was then working as a general labourer and Mary was employed in one of the town's principal industries as a silk winder. Also resident there at that time were their children—Thomas (b. 25 June 1871), the twins Adam and Elizabeth (b. 21 December 1873; bap. St Paul's Church of England, Macclesfield, 6 January 1874), and Prudence (b. 12 December 1879)—and the previously-mentioned Emanuel Whitehurst, a 56-year-old widower who was an unemployed stone mason.
Having decided to emigrate to Australia, the Unwins travelled as free passengers on the 1315-ton barque Western Monarch (Captain Thomas Wood) which left Liverpool on 29 June1883 and anchored in the Brisbane Roadstead on 30 September 1883. As there were cases of typhoid on board, the ship was towed to Peel Island where the passengers were quarantined until 12 October when the first group of the 494 passengers were brought up the Brisbane River on the steamer Kate. On the passage from England there were 12 deaths and 5 births.
Soon after his arrival James began work as a navvy on the construction of the 15-mile stretch of railway line that linked what is now called Yeerongpilly with Logan. His son Tom was also engaged on this project as a nipper—one who does small odd jobs on a construction site.
In 1888 Jimmy Unwin, assisted by his sons and his daughter Elizabeth's future husband, Richard Ezekiel Biddle, opened a brickworks near Moolabin Creek at Moorooka. There they produced the handmade sandstock bricks that can still be seen in such buildings as 'Ross Roy' at St Peter's Lutheran College, Indooroopilly, and the Princess Theatre on Annerley Road.
Survived by all four of his children, James Elijah Unwin died on 5 May 1935 in the Brisbane Hospital. His funeral to the Cooper's Plains Cemetery took place on the following afternoon. Present at the burial in an official capacity were: the Reverend RJ Burns of the Seventh Day Adventist Church, HW McDowell (undertaker representing Cannon and Cripps), and J Dibble and J Dunstan (witnesses).
Mary Unwin, the daughter of Adam (?) and Mary (née Billinge) Proctor (m. 1 March 1838), was born in England's highest village, Quarnford, Staffordshire, in the June quarter of 1840. She died in the Brisbane suburb of Yeronga on 21 June 1923 and was laid to rest in the Cooper's Plains Cemetery on the following afternoon. The funeral service was conducted by the Reverend HJ Taudevin of the Congregational Church in the presence of Alfred Cannon (undertaker) and TG Johnston and J Jordan (witnesses).
Adam Unwin married Fanny Elizabeth Bunting, the daughter of John and Mary (née Capel) Bunting on 1 May 1895. Their son Jack Floyd Unwin (b. 30 October 1895) died on 4 September 1902 and was buried in the grave at the South Brisbane Cemetery (4B 74C) that would latter receive the remains of his parents—Adam (d. 24 June 1964 aged 90), and Fanny Elizabeth (d. 20 May 1945).
Elizabeth Unwin married Richard Ezekiel Biddle, the son of Samuel and Ann (née Clark) Biddle on 29 April 1889. Richard passed away on 1 September 1947 and was buried in the South Brisbane Cemetery in a grave (4 240) that would later receive the remains of Elizabeth who died on 13 January 1954.
Prudence Unwin married William Charles Behan on 2 December 1903. In October 1916 William travelled overseas with the 25th Infantry Battalion AIF and died of wounds on 25 May 1918. He was laid to rest in the Vignacourt British Cemetery in France. Some years later, on 26 January 1921, his widow married Jack Scott.
Thomas Unwin married Alice Mima Brookes, the daughter of Philip and Jemima Ann (née Bradford) Brooks, on 23 November 1891. After his death on 3 December 1959 his ashes were sprinkled on his parents' grave at God's Acre. Alice predeceased her husband on 1 March 1934 and was laid to rest in the South Brisbane Cemetery (U 54).