Frank Penrith Vine, a great-grandson of Thomas and Mary Grenier, was born on 25 February 1919. He passed away at his maternal grandparents' home in Hansen Street, Moorooka, on 5 June 1920 and was laid to rest in 'Greniers' Cemetery'. The service was conducted by the Reverend A Higgins of the Church of England in the presence of G Fabran and C Spring (witnesses).
Frank's parents were John Daniel Jackson Vine and Ethel Jane Grenier, who were married according to the rites of the Church of England in St Mary's Church, Kangaroo Point, on 27 November 1909. The eldest child of William Leichhardt and Mary (née Catchpole) Grenier, Ethel was then living in the family home at 51 Sutton Street, Kangaroo Point. Her sister Myrtle Sarah Grenier and Thomas Mellers were the witnesses at the wedding which was conducted by the Reverend Hugh Simmons. The two witnesses celebrated their own marriage in the same church on 20 August 1913.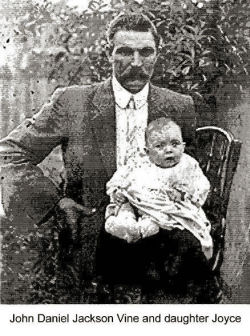 As Frank's death notice indicates, the Vines' family home at that time was in Cooroy where his father worked first as a 'lengthsman' and then as a selector. In rural areas a lengthsman kept a designated 'length' of his district neat and tidy, well mown and free from litter. His duties might include patrolling a length of a canal looking for leaks, tidying the banks and attending to minor maintenance.
Frank Penrith Vine's siblings were: Joyce Violet (b. 1 June 1910; m. Edwin Percival Carl Beckmann 30 November 1932), John Grenier (b. 26 November 1911, known as Jack; m. Vera Grace Harris 21 January 1939) and Eric William (b. 17 August 1913; m. Edna Pauline Brandt 11 June 1938).
John Daniel Jackson Vine, Frank's father, was born in Penrith to William John and Mary Ann (née Sullivan) Vine in 1875. As Trooper Vine, Jack served in the Boer War as a member of the Second New South Wales Mounted Rifles. He died on 23 October 1951 and was buried in the South Brisbane Cemetery (9A 358B) two days later.
Ethel Jane Vine, Frank's mother, was born on 22 June 1879 and died on 29 June 1965. She was laid to rest beside her husband two days later.