Robert Wallace was born on 21 September 1876 at 7 Ibrox Place, Govan, Scotland, to the Reverend James and Christina (née MacFarlane) Wallace. His father was the Church of Scotland minister of the first Plantation Church in Paisley. James and Christina were married on 30 November 1875 in Kelvin, Glasgow, Lanarkshire.
Having graduated as a doctor (MD, ChB) from the Glasgow University, Robert emigrated to Australia. He was registered as a legally qualified medical practitioner by the Queensland Medical Board on 2 July 1908 and worked for a time in North Queensland. It was at the Cairns Hospital that he met his future wife, Sarah Lily Grenier, the matron of the hospital.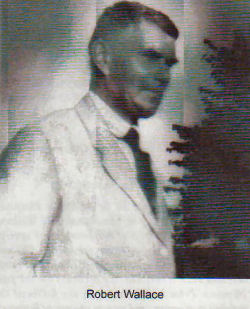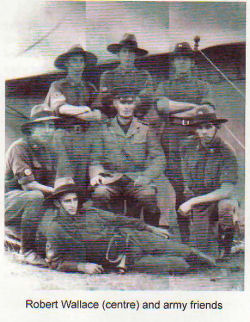 Lily (as she was known), the beautiful daughter of George Alexander and Sarah Mary Agnes (née Greenwood) Grenier, was born on the family farm at Cooper's Plains on 22 November 1873. Her paternal grandparents were Thomas and Mary (née Pannell) Grenier—both of whom (as well as her parents) are buried in God's Acre; and her maternal grandparents were James and Mary (née Canavan) Greenwood. Details of her brothers and sisters and other family members can be found under appropriate headings elsewhere in these pages.
Lily's ambition to train as a nurse did not meet with the immediate approval of her parents; but they were won over by her brother Ernest who assured them that it was 'a respectable occupation for a lady'.
Robert and Lily were married in Cairns on 26 August 1909. The first of their two children, Robert Jr (Bob) was born on 21 May 1911 in 'St Elmo', Nurse Woods's Private Hospital, Stephens Road, South Brisbane. Their daughter Mary was born on 19 March 1913 after the family had moved to Rosewood—a town about 28 miles from Brisbane where Robert established a thriving medical practice
Margaret Scott, the daughter of Dr Robert Wallace Jr, takes up the story of her paternal grandparents at this point:
Both Robert and Lily encouraged their children to be involved in what Mary called 'Australian activities'—such as horse-riding and swimming and diving in the nearby dam. Lily took both children to a dancing class; and because they both 'danced like elephants' discontinued the lessons. Travelling in a horse and sulky, they visited friends and the Grenier relatives, including Ern and Daisy Grenier.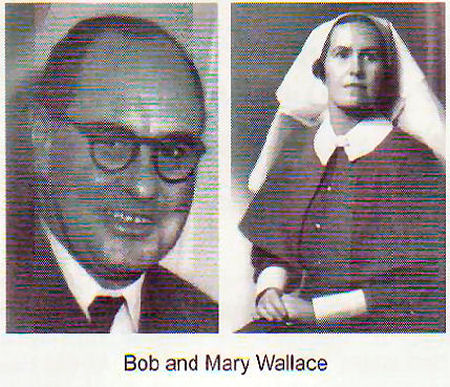 Interestingly, both Bob and Mary thought that their father was 'very Australian'. He chose Banjo Paterson's poems as the first piece of literature to read to them, and he was especially fond of 'The Man from Snowy River'. Over the years Robert encouraged Bob and Mary to read widely, including some of the books he'd brought to Australia and which he'd read while travelling as a ship's doctor around the west coast and islands of Scotland. In their bookcase stood classical novels, accounts of World War One, books by Rudyard Kipling and Flynn's writings about the Australian outback.
Bob grew cotton for his pocket money when he was eleven. One day a letter arrived from the Queensland Cotton Board addressed to Robert Wallace, requesting his presence at a meeting of cotton-growers in Brisbane. Smiling, Robert told Bob to go to this meeting; and there was much mirth when Bob told his family how surprised the other cotton-growers were to see this young boy, dressed in short pants, at this meeting.
Robert was busy attending to patients in his surgery, sometimes assisted by Lily, and in the early days riding a horse to visit his patients. He kept several horses so that he always had one ready to visit a patient. Later he travelled by car. It seems that Robert was a caring doctor. Many years later when Mary visited Rosewood several people told her that her father 'did more than treat their illnesses'. They said that he waived fees for the poorer patients and took people to hospital in his car.
Unfortunately, Robert was out delivering a baby when Mary was born and he did not see her until many hours later. Of course, he felt very disappointed at not being there. However, there were some happy times associated with being in a medical practice. After treating a performer from Wirth's Circus, Robert was given free tickets for the family to go to the circus; and many patients showed their appreciation by giving family members presents.
Sadly, Lily died on 19 September 1928 after suffering from cancer of the bowel for approximately six weeks. Bob, who was seventeen years old, travelled home by train from his boarding-school; and when he reached the Rosewood railway station he saw that most of the people of the town had gathered there to meet him. Mary, fifteen years old, also returned from her boarding school. Lily's funeral was held on 21 September 1928—Robert's birthday. The weather that day was extremely hot and humid, with heavy rain falling.
Lonely and grieving after Lily's death, Robert devoted himself to his patients and caring for Bob and Mary; and consequently he became quite wealthy. He wanted to spend his money on his children, and one day asked Bob if he would like a car to travel to and from Melbourne University where he was studying medicine. Bob surprised him by saying, 'Thank you for the offer, but I don't want a car because I prefer to travel on the train'.
Robert read the letters Mary wrote to him from boarding-school and then he corrected her spelling errors with a red pen. When Mary told me about this, I asked her if she was upset; and she replied, 'No, I felt grateful to my father for caring enough to point out my mistakes'.
Lily Wallace's remains were laid to rest in God's Acre two days after her death. The following people had official roles: James P Reed (undertaker), the Reverend Alfred W Gilbert (Church of England minister), and J Dibble and A Thompson (witnesses).
This obituary appeared in the Queensland Times after Lily's death:
ROSEWOOD, September 22
The death took place at St Andrew's Hospital, Ipswich on Thursday of Mrs. Sarah Lily Wallace, wife of Dr. R. Wallace of Rosewood. For several weeks Mrs. Wallace had been seriously ill. She was a member of the Grenier family, of Cooper's Plains, and had been a resident of Rosewood for the past 16 years. Prior to her marriage she followed the nursing profession, and was in charge of hospitals at Mt. Garnet and other northern towns. Besides her husband she leaves two children, Mary and Robert, both of whom are attending colleges. Her sister, Mrs. D. S. Cameron and four brothers, Messrs. Reginald, James, William and Ernest Grenier survive her. The funeral left from Ipswich yesterday for the Cooper's Plains Cemetery. It was attended by a number of Rosewood residents. Rev. A. W. Gilbert of St. Luke's Church of England officiated at the graveside.
During Lily's illness (and for about three years after that) her elder sister, Mary May Cameron, kept house for Robert at John Street, Rosewood. He survived his wife by less than a decade and passed away at his residence on 2 November 1936 aged 60 years and 1 month. His cremation took place at the Mount Thompson Crematorium on the following day after a service in St Luke's Church of England, Rosewood. Later his ashes were placed in a suitably inscribed marble urn on Lily's grave. An obituary in the Queensland Times remarks: 'He was of kind and considerate nature, and all sections of the community deeply regret his death'.
Robert was not the only member of his family to emigrate to Australia. His brother Thomas Irby Wallace MB, ChB (Glasgow), who died at his home in Camp Hill, Brisbane, on 8 July 1961, had a medical practice in Longreach at the time of Robert's death. Earlier on 16 March 1911, while Medical Officer at the Mount Perry Hospital, he had been called on to give evidence at a Royal Commission to inquire into the health conditions in Queensland mines. Another brother, James, passed away in Brisbane on 17 March 1913. Robert was also survived by his sisters in Scotland, Dr Edith Burley and Miss Ethel Wallace.
Following in his father's footsteps, Robert Wallace Jr studied medicine and practised as a doctor in Rosewood where he took over his father's practice (1936-39) and in Victoria (1941-1980). He and his wife Theodora Eleanor Hooks, whom he married on 3 April 1937, raised one daughter and three sons. Bob passed away on 19 June 1994.
Mary Wallace trained as a nurse at St Martin's Hospital, Brisbane, and during World War Two joined the Royal Australian Nursing Service on 3 May 1940. As Captain Wallace she served in New Guinea and further afield until she was discharged on 5 November 1946, at which time she was attached to 2/2 Australian General Hospital. Mary's courageous devotion to duty and her 'distinguished services in the South-west Pacific area' were recognised when she was officially mentioned in despatches.